New Range Rover Sport Revealed | Price, Specs & Release Date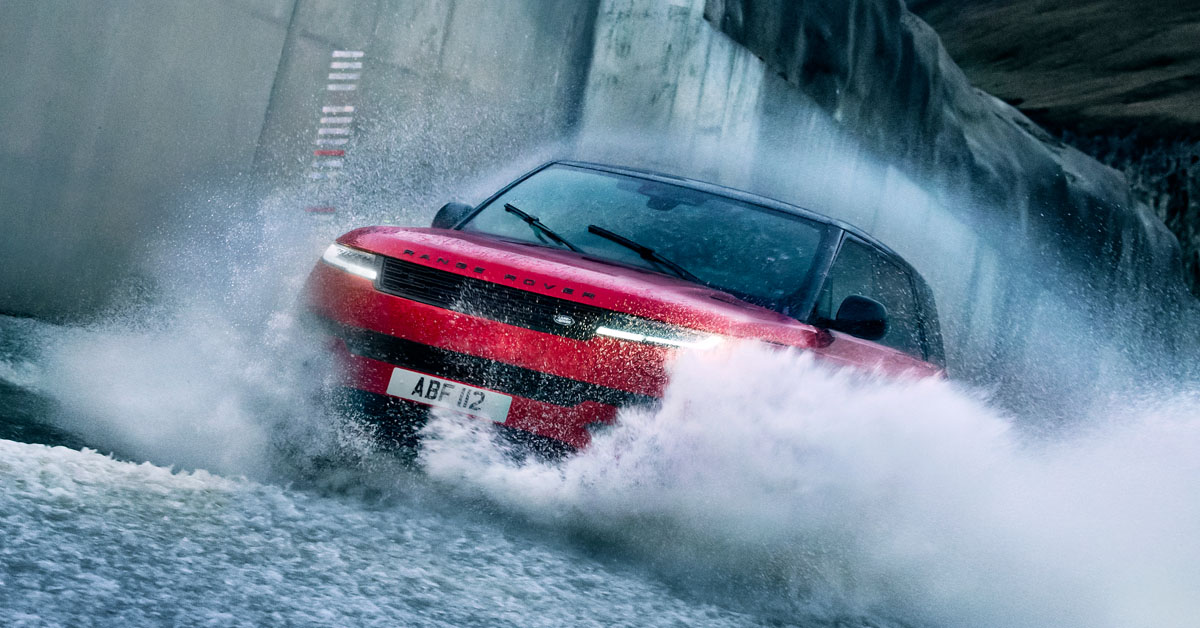 Posted in
Car News
On By
Aaron
The new Range Rover Sport is a luxury performance SUV from Jaguar Land Rover. It's the third-generation model that's more advanced than ever before.
New third-generation Range Rover Sport
Features new sleek and assertive exterior design
Updated with a brand new modern interior
Petrol & diesel Ingenium engines available from launch
PHEV model available from launch with 440PS and 510PS
All-electric model scheduled for 2024
High-performance SVR model due to be announced
Available to order now from Jaguar Land Rover
Prices start from £79,125 on Jaguar Land Rover website
The new Range Rover Sport premiered on the 10th of May 2022. It features a brand new exterior design, a revised interior and is the most technically advanced model yet. It's the third-generation Range Rover Sport to grace the roads and offers an imposing road presence and an extremely competent chassis.
Featuring a bold and aggressive modern design, this unique styling dramatically accentuates the proportions of the Range Rover Sport, making it a sight to see when in motion. This modern design extends to the interior too. Featuring a new cockpit design with premium quality materials, and with the trademarked Range Rover Command Driving Position, you get all the latest technologically advanced features.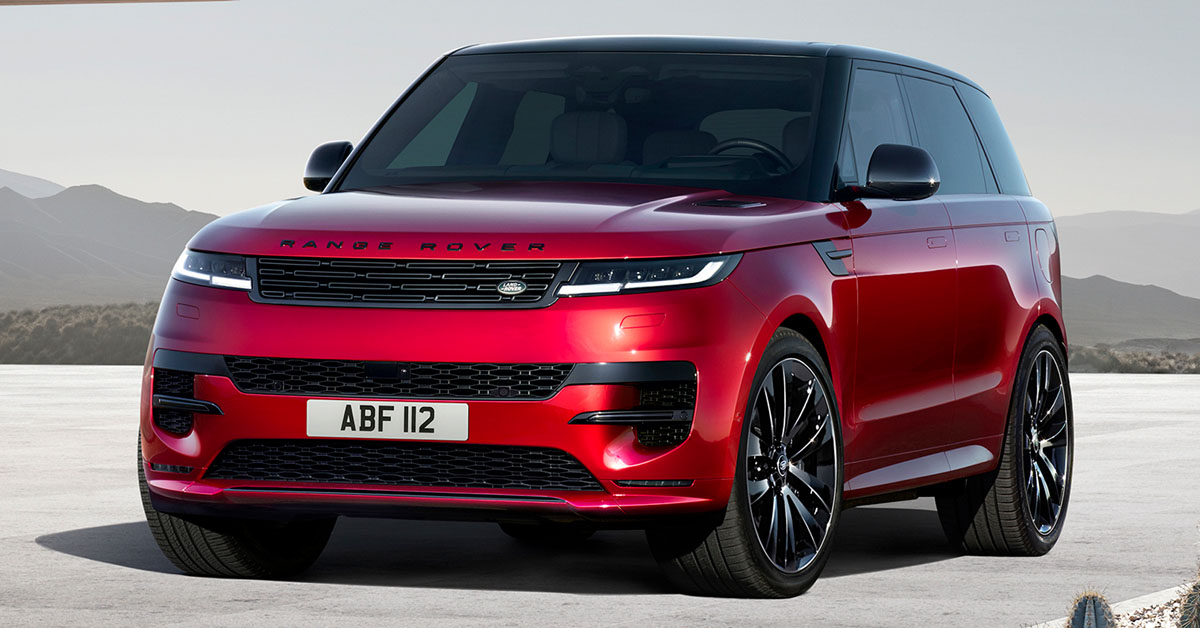 The Range Rover Sport sits on the capable MLA body platform, which when paired with Land Rover's Integrated Chassis Control system helps to create incredibly poise and agility on the road.
A combination of chassis technology including Dynamic Response Pro, All-Wheel Steering, an Electronic Active Differential with Torque Vectoring by Braking, and Configurable Programmes, gives you the ultimate performance SUV with unmatched handling.
Dynamic Response Pro is a 48-volt electronic active roll control system that is able to deliver a resounding 1,400Nm of torque across each axle, for a confidence-inspiring driving experience and unparalleled levels of chassis and body control.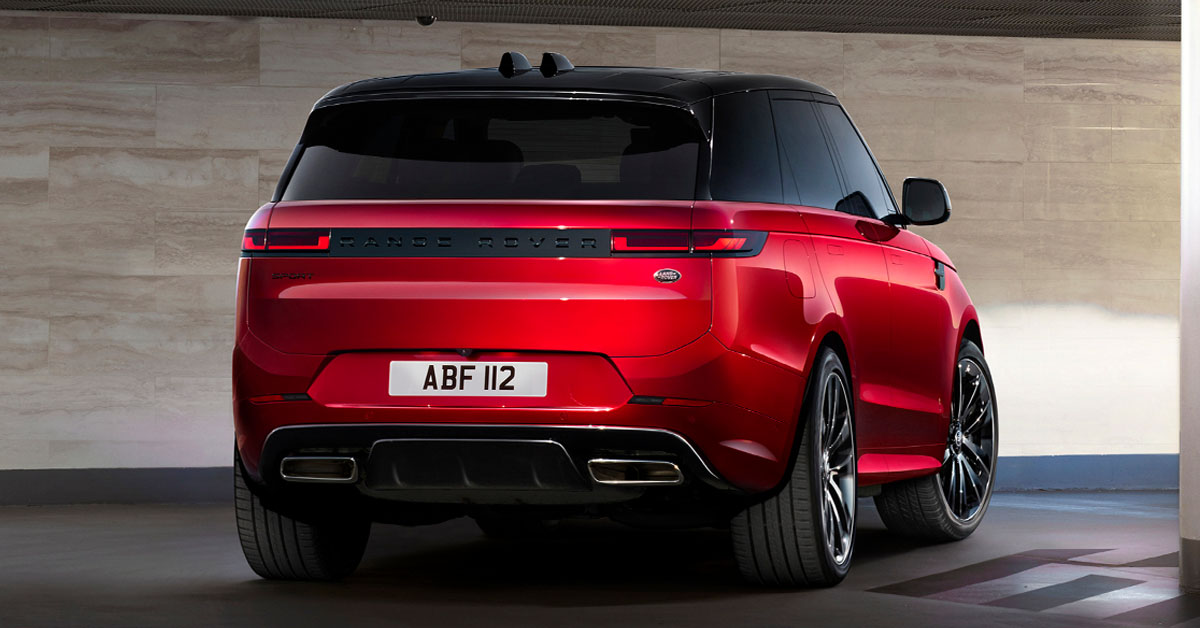 While All-Wheel Steering helps to improve low-speed manoeuvrability and improves stability during high-speed cornering for maximum confidence when driving.
Dynamic Air Suspension introduces switchable-volume air springs, which is a brand new feature and will be fitted to all third-generation Range Rover Sports. This intelligent system enhances the bandwidth of the suspension by varying the pressure within the airbags to deliver traditional Range Rover comfort with the dynamic handling expected from the Range Rover Sport.
In order to optimise performance during fast-paced driving on bendy roads, the Range Rover Sport uses eHorizon navigation data to pre-emptively prime the vehicle for upcoming bends. Meaning it's already ready for even the tightest hairpins.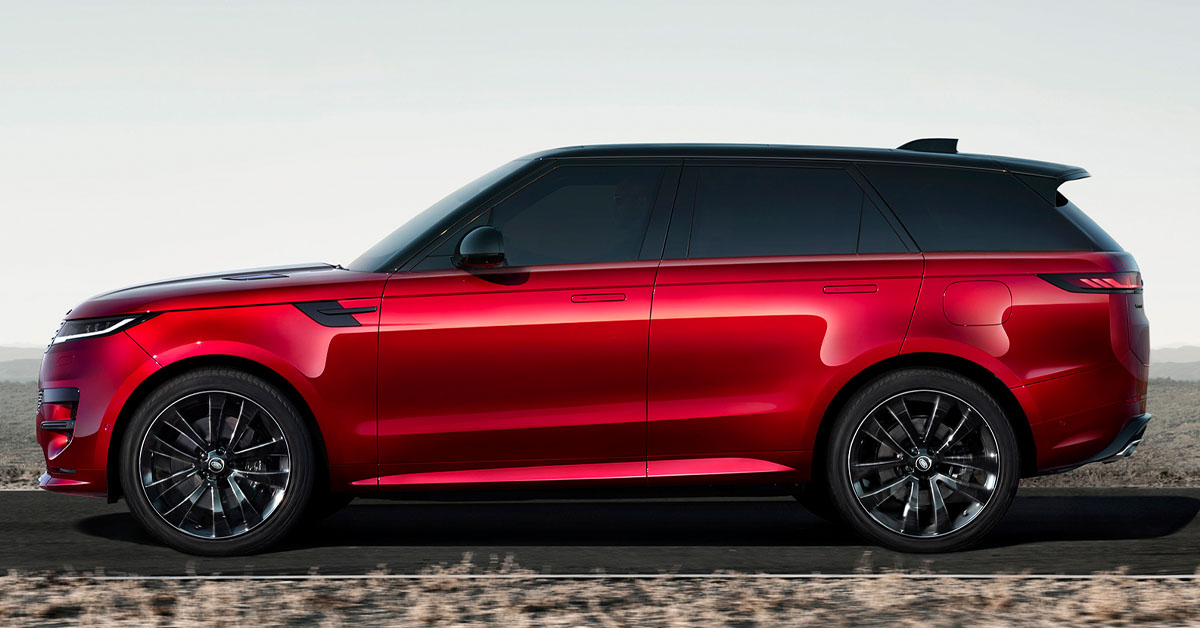 The latest Intelligent All-Wheel Drive (iAWD) system is fitted on the new Range Rover Sport. This integrates Land Rover's latest all-terrain innovations and technologies to ensure its breadth of dynamic capability.
All-new Adaptive Off-Road Cruise Control makes its debut on the third-generation Range Rover Sport and helps drivers navigate tricky terrain by maintaining steady progress according to the ground conditions. Drivers can select one of four comfort settings and the system intelligently adjusts the speed, allowing the driver to focus on steering the vehicle.
The epitome of sporting luxury
The new Range Rover Sport aims to make every journey a pleasant and seamless one, whilst maximising driving engagement, should the driver prefer a more active session. Even during taxing journeys, the Range Rover Sport offers enhanced levels of refinement and comfort.
A new feature includes the advanced Cabin Air Purification Pro system. It creates and maintains the optimum interior environment for wellbeing and alertness, while a selection of powerful Meridian audio options is available.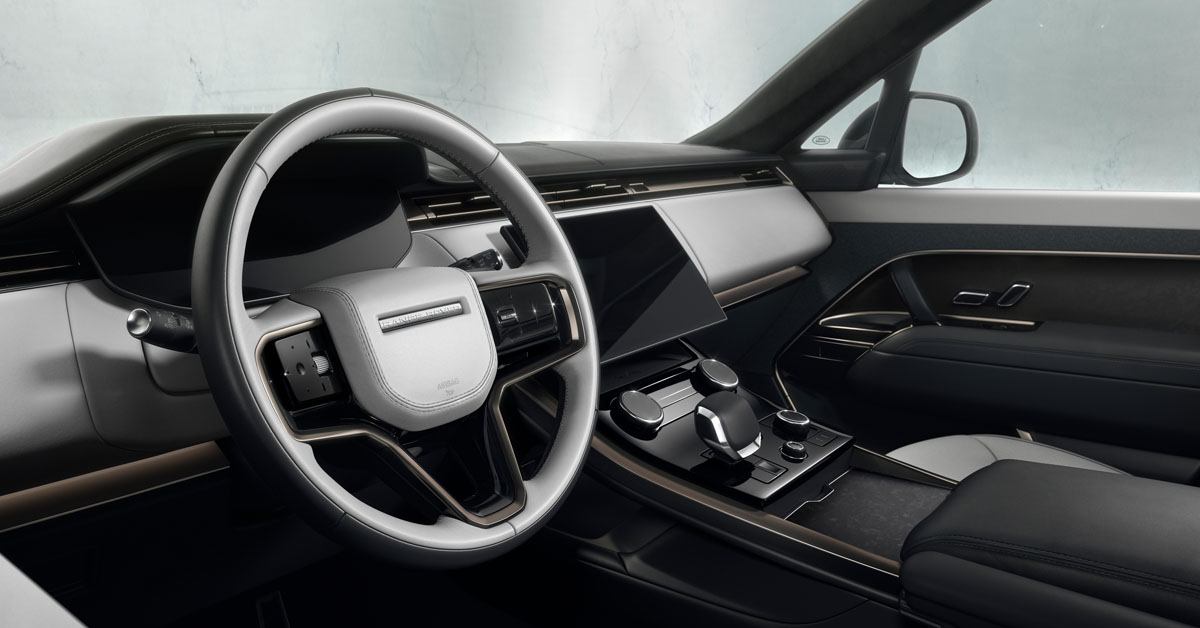 The Meridian Signature Sound System is the most advanced and powerful audio system ever fitted to a Range Rover Sport, with up to 29 speakers including four headrest speakers to create personal sound zones for the four main cabin occupants.
Next-generation Active Noise Cancellation plays its part here, reducing the number of external sounds entering the cabin for ultimate cabin refinement. Meaning wind noise is minimal when travelling as speed, say on the motorway.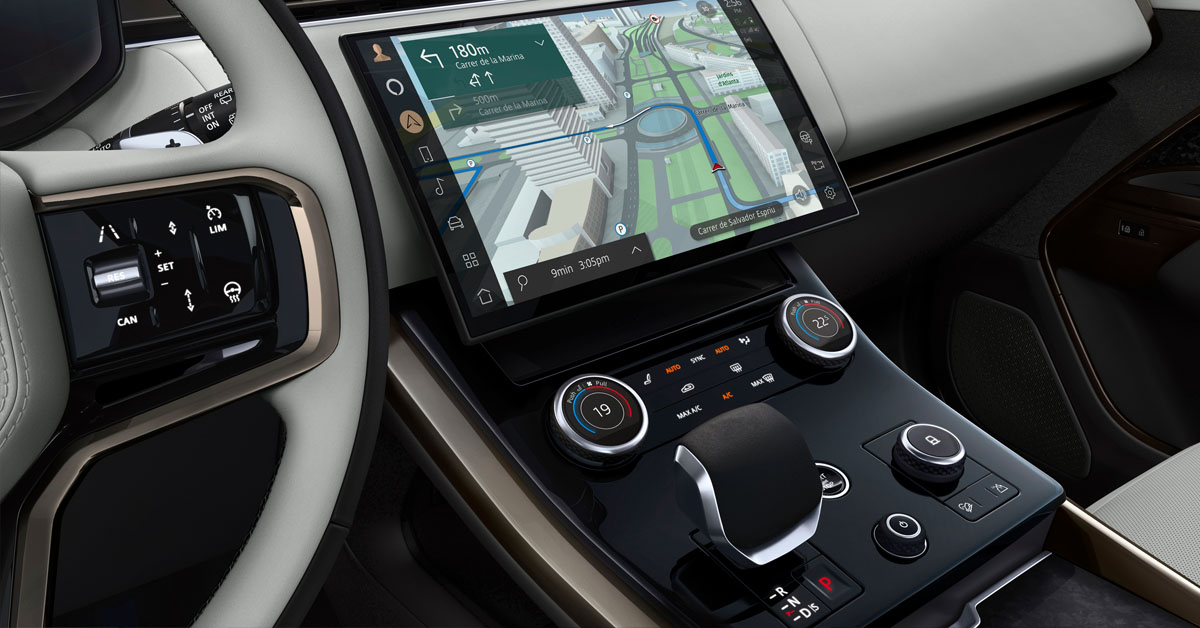 Technology within the new Range Rover Sport includes Software Over The Air (SOTA), the critically acclaimed Pivi Pro infotainment system, Amazon Alexa and more. Behind the wheel sits a 13.7-inch Interactive Driver Display. The Pivi Pro system sits on a high resolution floating 13.1-inch haptic touchscreen positioned at the centre of the dashboard.
Controlling everything from navigation to media and vehicle settings, it learns the user's habits and intelligently personalises the onboard experience, becoming a truly intuitive personal assistant.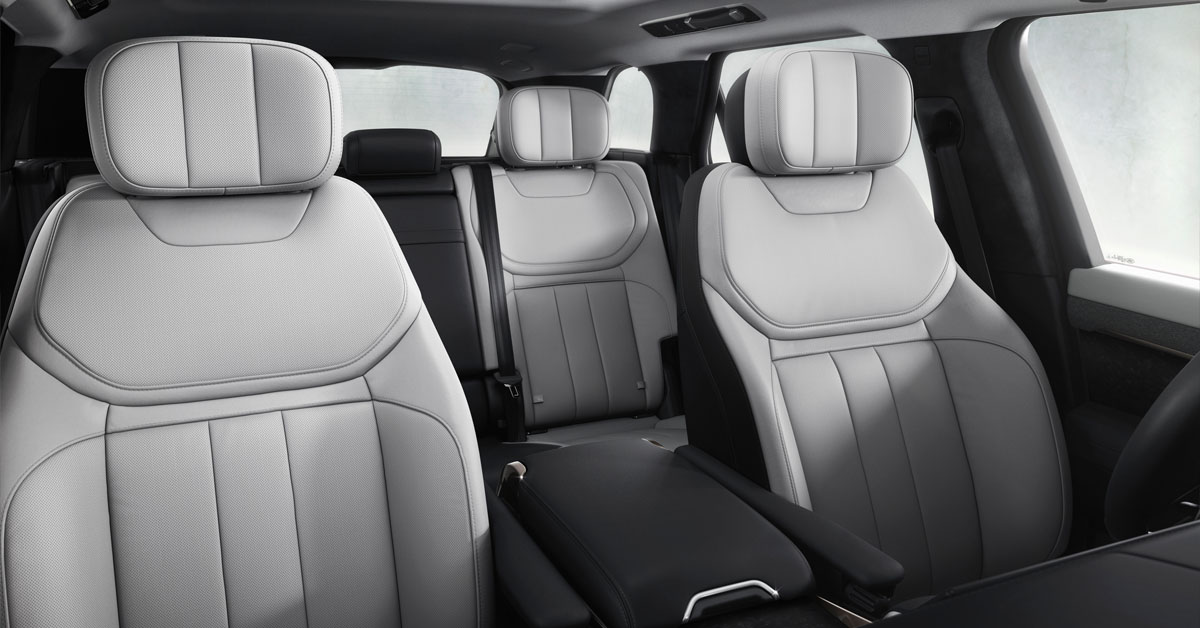 Amazon Alexa brings a whole new level of convenience, providing the ability to instantly control various settings and features using natural voice commands while reducing the potential for distractions by taking your eyes off the road. Alexa is embedded in Pivi Pro and the clever voice AI even integrates the use of Alexa devices in the home via the Land Rover smartphone app and Remote Skills.
New Range Rover Sport Specification
The new Range Rover Sport features award-winning Ingenium petrol and diesel engines and a PHEV (Plug-in Hybrid Vehicle). Plus an all-new 4.4-litre V8 Twin Turbo 530PS which delivers the exciting Range Rover Sport performance we've come to expect.
The two diesel options available are 3.0-litre straight-six engines that both come with mild hybrid assistance. These are the D300 and the D350 which come with 300PS and 350PS respectively.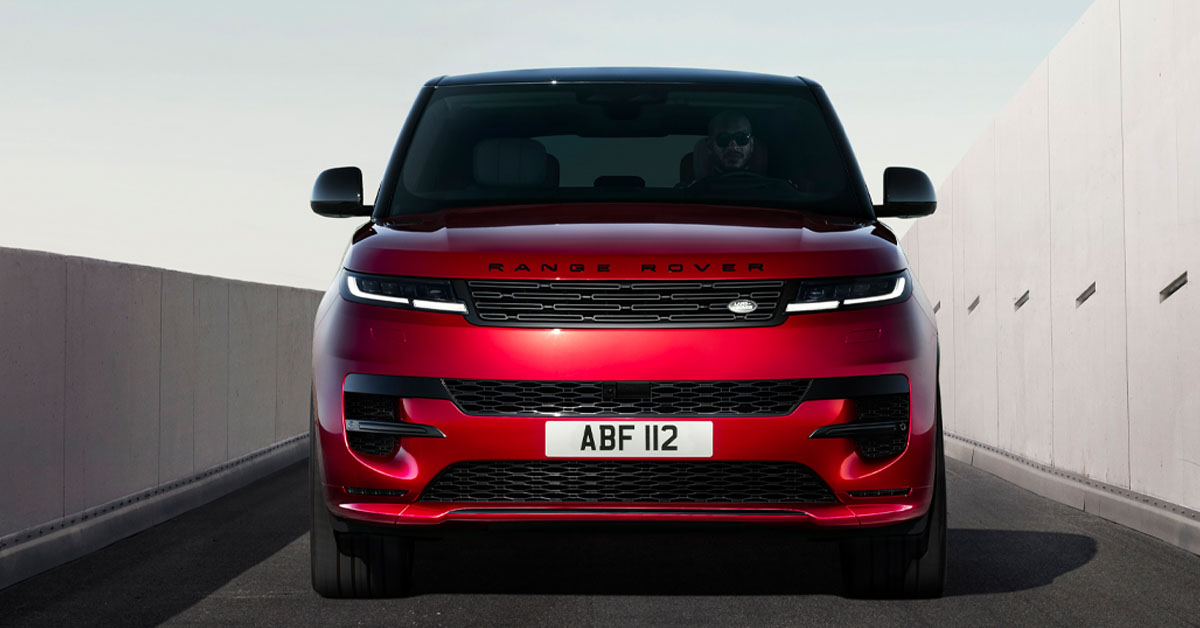 Petrol engines include the aforementioned 4.4-litre V8 with 530PS and a standard six-cylinder with mild hybrid technology that offers a healthy 400PS.
The PHEV offers a 3.0-litre straight-six petrol engine and a 32kWh battery pack. The PHEV comes in two models, the P440e which offers 440PS and the P510e, which offers 510PS. Both models will do a claimed 70 miles on the battery power alone.
Jaguar Land Rover have said there will be a pure electric version available but that will be from 2024 onward.
Apparently, a high-performance SVR edition will be available at a later date too.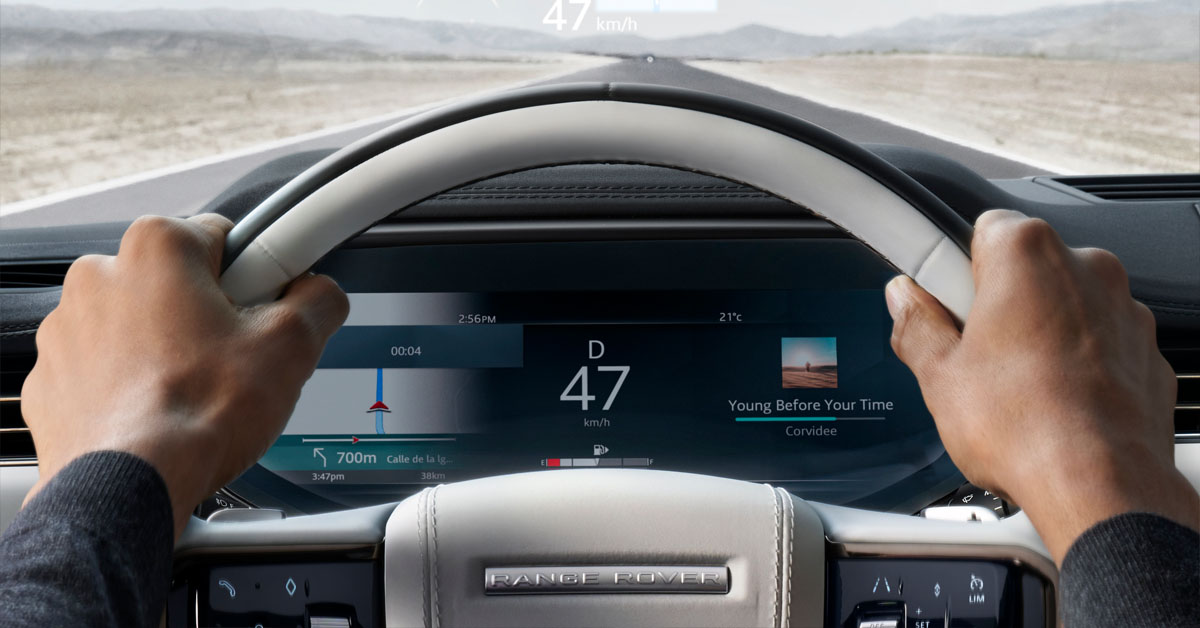 New Range Rover Sport Price
Prices for the all-new third-generation Range Rover Sport start at £79,125, which is the 3.0-litre D300 diesel model. If you wanted the range-topping 4.4-litre V8 model you would be looking at up to £115,000.
New Range Rover Sport Release Date
The all-new third-generation Range Rover Sport is available to order now through the Jaguar Land Rover website. Deliveries are expected to be starting from late 2022 if you're lucky, with most deliveries being pushed into 2023.
If you would like to drive a brand new Range Rover Sport for a fixed monthly cost, please visit our Range Rover Sport leasing page.
Established in 2009, Stable Vehicle Contracts are a UK based premium vehicle leasing company. We are part of a large, privately owned, Volkswagen and Audi dealership group with over 25 sites. Stable Vehicle Contracts has the ability to offer the very best car and commercial vehicle lease deals and thanks to our partners in the trade, we've become leaders in the supply of cars and commercial vehicles through leasing.
Give us a call today on 0151 728 4711 or visit our Special Offers page to see what deals we have on. Alternatively, signup to our leasing offers newsletter to get our latest deals delivered straight to your inbox.