Running a red light, what are the consequences?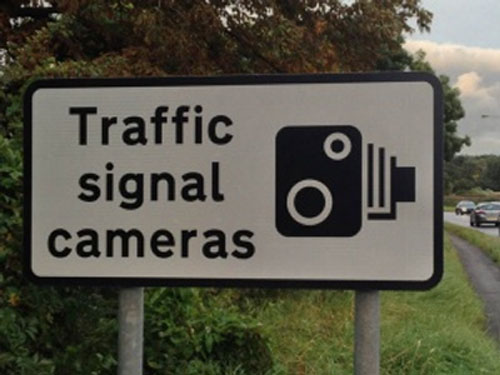 Posted in
Tips
On By
Tim Ridd-Jolly
Running a red light may seem like a common accidental occurrence for motorists, but it comes with some severe consequences if you're caught out.
Running a red light, any driver with a modest amount of miles racked up will tell you it's happened once or twice. And whilst generally, some people get away with it due to either the traffic light not being equipped with a traffic camera or the police not being near to notice, the consequences when you finally do get caught can be severe! From getting a fixed penalty fine to receiving points on your licence, or even potentially having a crash due to other roads users responding to their own green lights.
In this post, we're going to talk about what 'running a red light' actually means and what effects it can have on you if you get caught.
What does 'running a red light' mean?
Contrary to the phrases literal meaning, it does not mean running through a set of traffic lights in a pair of jogging shoes! It actually means driving past the white stop line if a traffic light has turned to red. This applies to any form of a traffic light from portable road works, level crossings for trams or trains, pedestrian crossing or motorway lights. It's generally considered that once a traffic light turns orange you must start to slow down to come to a stop, but if you cannot make it in time you are allowed to drive through an orange light if it would be dangerous to stop otherwise.
Not many people know that as well as running a red light, running an orange light is also considered an offence on the same level as running a red. But generally, there is more leeway when it comes to driving through an orange signal due to stopping being potentially dangerous.
Here's a scenario. You're driving at 40mph and approaching a traffic light. There is a car fairly close to your tail and the traffic light suddenly turns orange. Realising this you may attempt to brake, but the car behind you is too close and won't have enough time to react, as well as the fact that there isn't enough braking distance to avoid crossing the white stop line. In examples like this, you would be okay to continue on through an orange light.
Speeding up past the speed limit to run an orange light with no car behind you, however, would be considered running an orange light without reason to and given the same penalty as running a red light.
What happens if you get caught?
Failing to comply with road traffic regulations by adhering to traffic lights or road markings can result in penalties given out to the driver. The main penalty that will hit you hard is the 3 points added to your licence, as well as an automatic £100 fine if you're caught either by a road police officer or a traffic light camera. Having points added to your licence will raise your insurance prices significantly and make it harder to get an insurance quote.
For reference, the official gov.uk website states that the TS10 code "failure to comply with traffic signals" is 3 points, the TS10 include running a red light. You can find it here: https://www.gov.uk/penalty-points-endorsements/endorsement-codes-and-penalty-points
Remember, licence penalty points stay on your licence for 4 years and you have a maximum of 12 points if you aren't a recently passed learner driver (these only have 6 points). Running a red light 4 times within 4 years and getting caught all 4 times would be grounds for having your licence revoked, assuming you received 3 penalty points each time.
After getting caught by a camera you will usually receive a letter in the post addressed to the owner of the vehicle. It will state that the offending driver must be named and an admission of guilt accepted in order for the case to continue. The offending driver will then need to pay a fixed penalty and will receive points in their licence which goes to a central database. This takes place out of court, but can be taken to court if you refuse to pay the fine or an admission of guilt isn't accepted in a specific amount of time.
What defence do I have after being caught?
It's generally accepted that once you received a NIP (Notice of Intended Prosecution), to have the driver at the time admit their guilt and receive the fine and penalty points. The reason for this is that there are almost no great defences when it comes to running a red light. Simply saying "I didn't see the light change" will not work, and pretending that you didn't know who was driving your vehicle can lead to your case going to court, where you will potentially have to pay the court fees if you lose. If you say that you didn't know who was driving your vehicle they will assume your vehicle had been stolen, which can lead to other complications such as why you didn't report it as stolen.
The courts can also further sanction you for essentially "wasting time" by giving you a much larger fine than the original £100 or adding 6 points to your licence instead of 3. The only real defences you have are:
Have physical proof from a dashcam that the traffic light had malfunctioned
Can 100% prove you didn't go through a red light and they have no evidence of you doing so (highly unlikely)
Moving for emergency vehicles such as ambulances doesn't count as a defence and you can still be fined. You can read more about that on our Avoid Being Fined For Moving for Ambulances blog post.
For this reason, most people agree that you should admit your guilt as soon as possible and accept the consequences. Or better yet, pay more attention to the road and what's happening around you so that you are never in the position of running a red light! Hopefully, this post has given you the information you need with regards to what happens when running a red light and the potential consequences.
Stable Vehicle Contracts is a performance car leasing and contract hire company situated in Liverpool, UK. We specialise in Audi and Volkswagen and can deliver cars anywhere within the UK + Northern Ireland. You can check our stock list here. Alternatively, pick up the phone and give us a call on 0151 728 4711 or submit a form via our contact us page.
Established in 2009, Stable Vehicle Contracts are a UK based premium vehicle leasing company. We are part of a large, privately owned, Volkswagen and Audi dealership group with over 25 sites. Stable Vehicle Contracts has the ability to offer the very best car and commercial vehicle lease deals and thanks to our partners in the trade, we've become leaders in the supply of cars and commercial vehicles through leasing. Give us a call today on 0151 728 4711 or visit our Special Offers page to see what deals we have on.