The Audi SQ2 Gets A Facelift For 2020
Posted in
Car News
On By
Aaron
The new generation compact performance Audi SQ2 SUV has sharpened styling, upgraded equipment and brand new technology features to keep things fresh for 2020.
The Audi SQ2 gets a facelift with sharper styling, more in line with Audi's 2020 lineup
Models offered are SQ2 Black Edition and all-new SQ2 Vorsprung
More interior equipment and upgraded infotainment systems
2.0-litre TFSI engine with 300bhp and 34 MPG
0-62mph in 4.9 seconds with 155mph top speed
Available to order from November 2020 priced from £38,900
The new generation 2020 Audi SQ2
The successful compact performance SUV gets a facelift for 2020, with the Audi SQ2 looking sharper and sleeker than ever. Thanks to an updated turbocharged 2.0-litre four-cylinder TFSI petrol engine, the SQ2 has an output of 300bhp and a peak torque of 400 Nm (295.0 lb-ft). This makes it go from 0 to 62mph in just 4.9 seconds and has a top speed of 155mph. Considering the SQ2's power, it's Euro 6 compliant and has the potential to do up to 34.0 MPG, which for a car of this size is surprisingly good.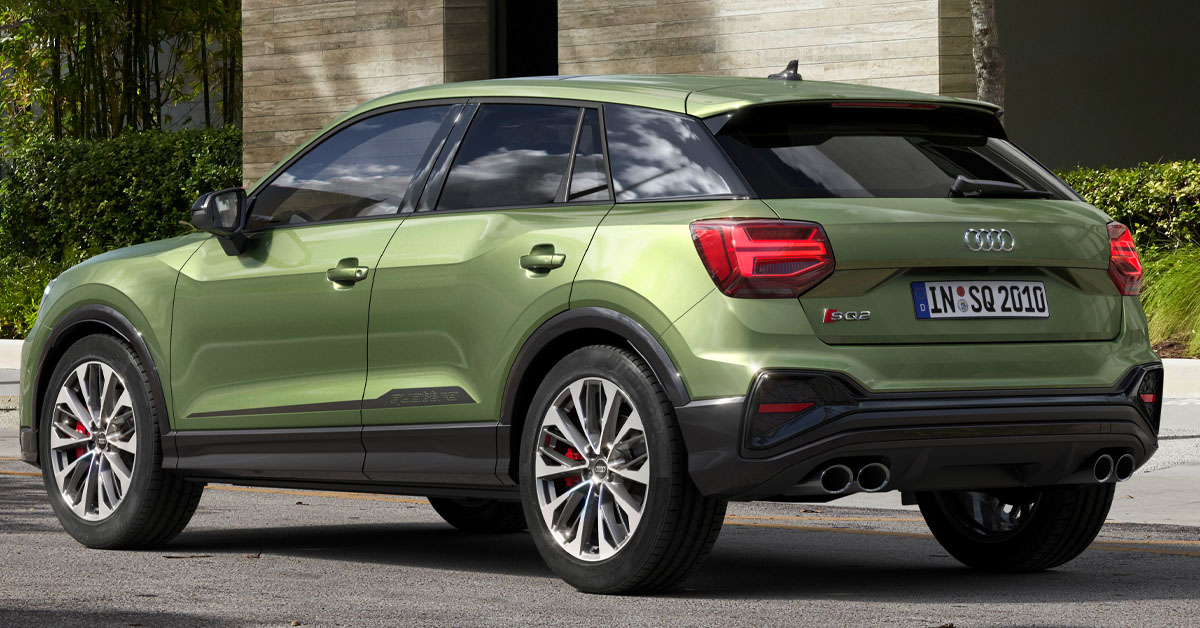 The SQ2 uses a seven-speed S tronic (automatic) gearbox with all-wheel-drive (Quattro) transmission, which makes it a pleasure to drive. The dual-clutch transmission allows for manual shifting with the steering wheel-mounted shift paddles, which feel responsive and smooth when changing gear. The highly intelligent Quattro system can direct torque to the rear axle when the SQ2 is driven aggressively, meaning that the car feels far more planted in corners and less likely to slide.
In usual Audi fashion, the interior of the Audi SQ2 is lavishly adorned with high-quality materials and presented in a dark colour scheme. The front sports seats are upholstered in black leather and Alcantara, with the SQ2 Vorsprung getting Fine Nappa leather added to the mix. The Vorsprung also includes an electronically adjustable lumbar support, making those long journeys more comfortable. The door panels, air vents and various toggles and levers have been crafted to include a more tactile material, which feels great to touch when adjusting the settings.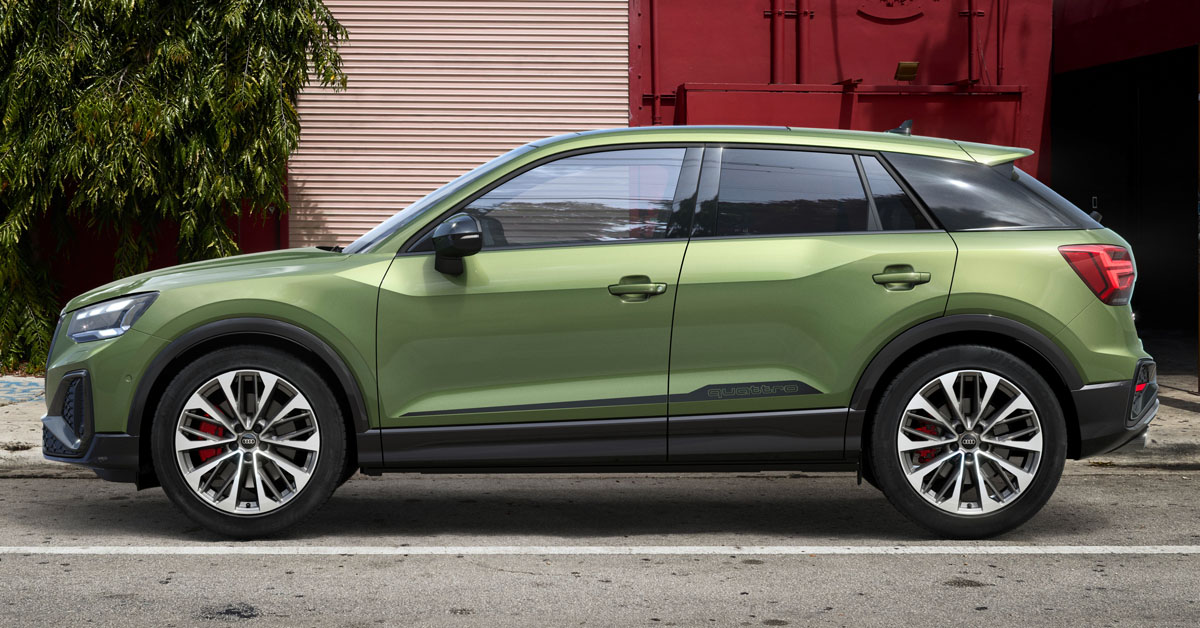 On-board infotainment technology has been upgraded significantly, with the Audi Virtual Cockpit feature now standard on the SQ2 (and most other 2020 Audi models). The Audi Virtual Cockpit sits within a 12.3-inch binnacle display that also includes MMI Navigation (sat nav), which is easier to see sitting right behind your steering wheel. All of the latest Audi models contain Apple CarPlay and Android Auto, perfect for your smartphone connectivity needs.
The most notable changes to the Audi SQ2 are the exterior design updates. The front has seen changes that make the SQ2 appear wider and more striking, especially thanks to the enhanced air vents and radiator grilles which have increased in size. The powerful standard LED headlights allows the SQ2 to be highly visible during the day thanks to the DRLs (Daylight Running Lights), but the Vorsprung version takes a step further with impressive Matrix LEDs that deliver intelligent light cornering technology. The rear diffuser has been updated to match the front changes and the exhaust tailpipes come trimmed in black chrome.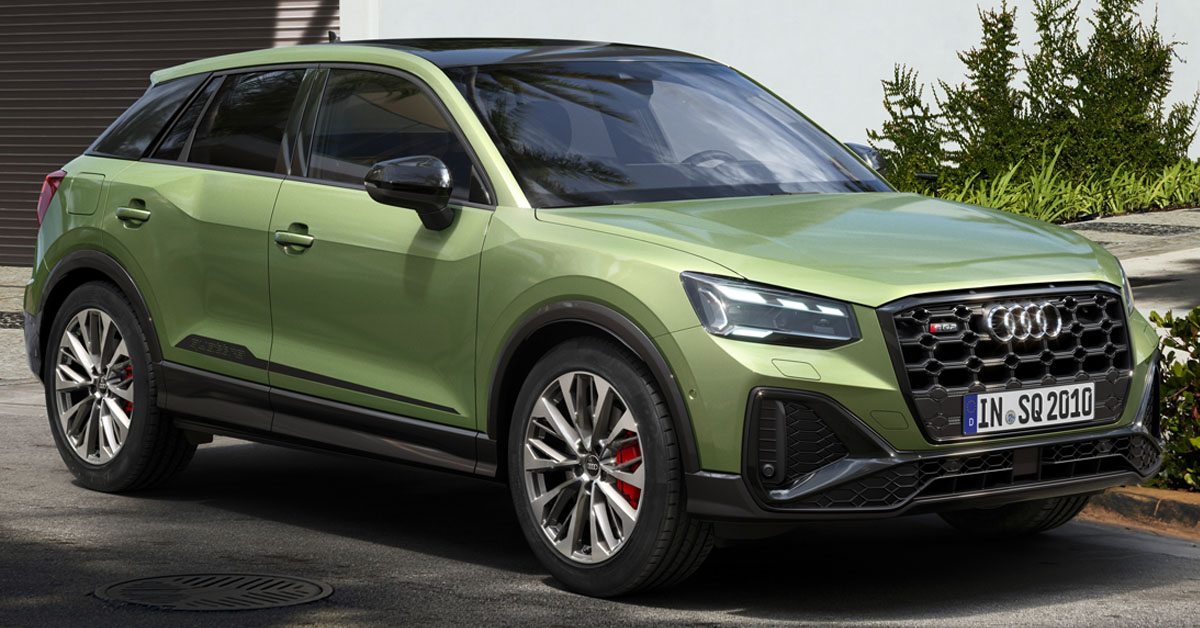 The 2020 Audi SQ2 stops as fast as it goes thanks to the sizable brakes. The painted S-branded calipers guarantee excellent stopping power, with the brake discs coming at a whopping 340 millimetres on the front and 310 millimetres on the back. The 18-inch alloys with 235/45 tyres are able to tackle the uneven British roads with ease, making your journeys comfortable and effortless. The SQ2 Black Edition comes with 19-inch alloys with a contrasting grey diamond-cut finish and 235/40 section tyres.
Interested in leasing an Audi SQ2?
Leasing can be far cheaper compared to PCP or outright buying. Stable Vehicle Contracts offers great prices for Audi cars and the Audi SQ2 in particular. Please visit our Audi brand page to see all the models we lease. Or visit the Audi SQ2 page to see what SQ2's we currently have on offer. To find the SQ2 offers simply click the 'Spec' button and then filter by SQ2.
New to leasing? Why not view some of our Leasing Guides to get a better idea of how leasing works. Alternatively, feel free to visit our Contact Us page to get in touch with us.
Established in 2009, Stable Vehicle Contracts are a UK based premium vehicle leasing company. We are part of a large, privately owned, Volkswagen and Audi dealership group with over 25 sites. Stable Vehicle Contracts has the ability to offer the very best car and commercial vehicle lease deals and thanks to our partners in the trade, we've become leaders in the supply of cars and commercial vehicles through leasing. Give us a call today on 0151 728 4711 or visit our Special Offers page to see what deals we have on.