Volkswagen Golf GTI Clubsport 45 Edition Now Available To Lease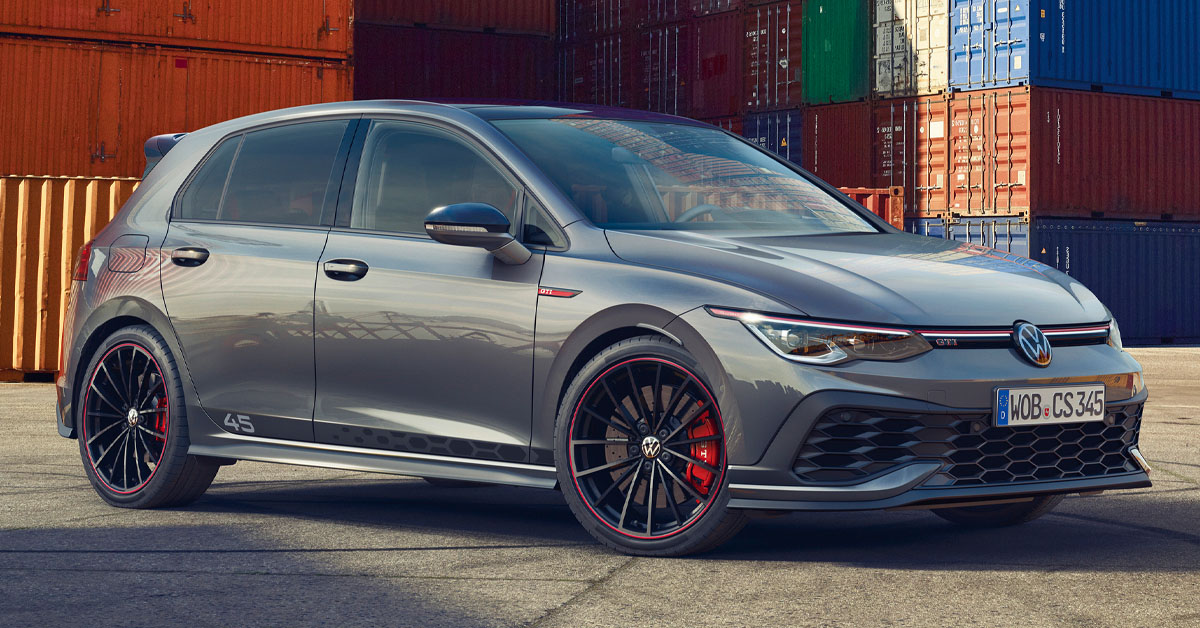 Posted in
Car News
On By
Aaron
Volkswagen's unique Golf GTI Clubsport 45 Edition is now available to lease on both personal and business contract hire via Stable Vehicle Contracts.
Unique '45 Edition' design and decals marking 45th anniversary of the Golf GTI
GTI Clubsport 45 is the sixth generation of Golf to have a special anniversary edition
Uses the standard Clubsport Mk8 engine, the most powerful GTI available
45 Edition comes with a turbocharged 2.0-litre four-cylinder 300bhp engine
Can do 0-62mph in just 5.6 seconds and has 400 Nm of torque
Top speed limiter removed, allowing the 45 Edition to get to 166mph
Price starts at £39,980 RRP OTR
Available to order and lease from 29th April 2021
Initial Rental: £1,767.38
36 Month Contract
5000 Miles pa
Initial Rental: £2,533.32
48 Month Contract
10000 Miles pa
Initial Rental: £2,036.81
48 Month Contract
5000 Miles pa
View all Special Offers
Prev
Next
Volkswagen Golf GTI Clubsport 45 Edition now available to lease
The Volkswagen Golf GTI Clubsport 45 Edition marks the 45th year since the acclaimed Golf GTI went on sale, as the GTI first went on sale back in 1976. It's one of the most successful hot hatches of all time and to celebrate Volkswagen have released this special edition, dubbed the '45 Edition'. It uses the GTI Clubsport model for the 45th-anniversary design, which is the most powerful GTI available.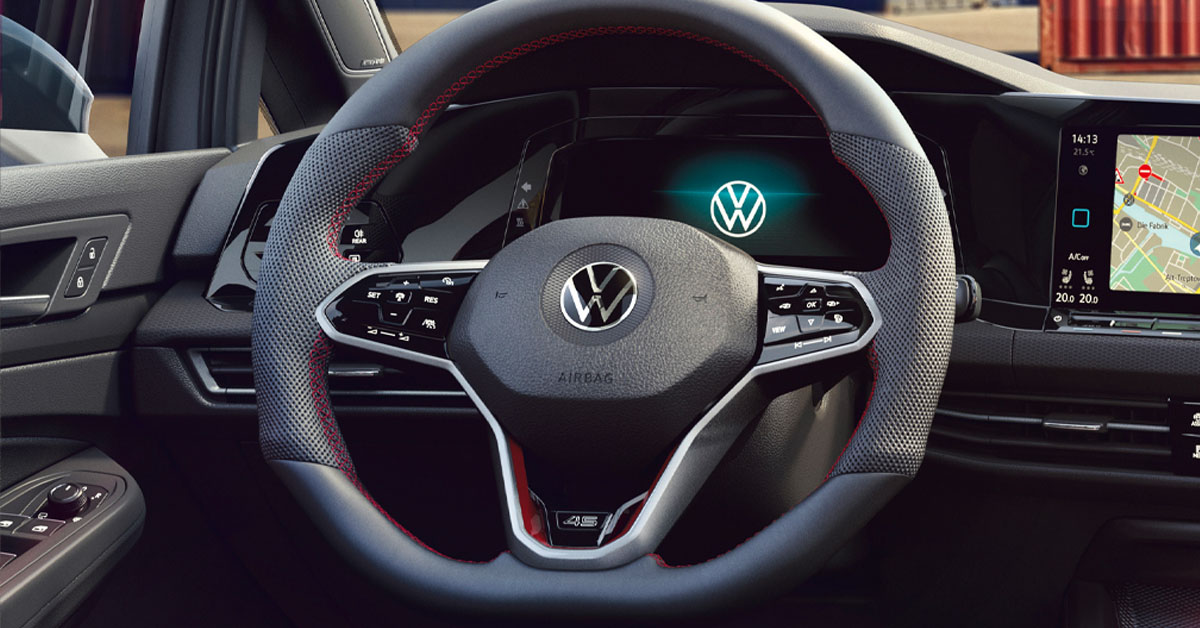 It will be a limited release and will only be available to order for a short period of time. Making it a great collector's item for those who love the Golf GTI. The Clubsport 45 is priced from £39,980 RRP OTR and can be leased on both business and personal contract hire.
You can lease the Clubsport 45 Edition by visiting our Volkswagen Golf GTI Clubsport 45 Edition page.
So what's new for the GTI Clubsport 45?
Performance
The GTI Clubsport 45 uses the same engine a the normal Clubsport. It's a turbocharged 2.0-litre four-cylinder engine with 300bhp on tap, which makes the GTI Clubsport 45 capable of doing 0-62mph in just 5.6 seconds and has a top speed of 166mph.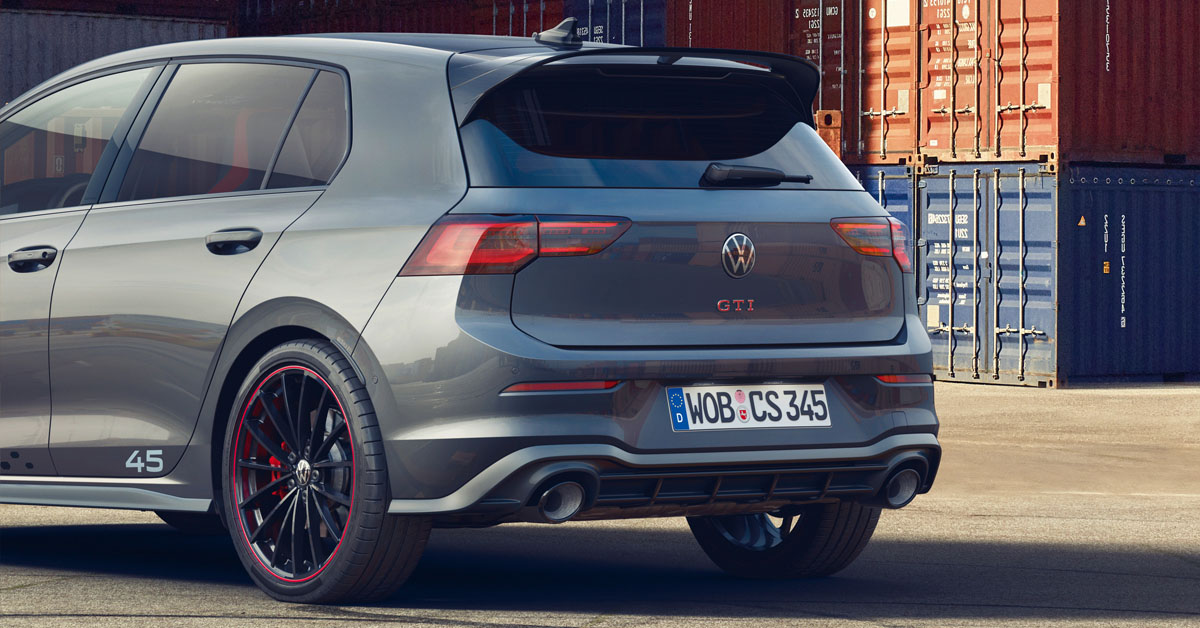 A notable difference is that the speed limiter has been removed, as the standard GTI Clubsport is only capable of doing 155mph top speed. So where legally permitted, you can gain an extra 11mph out of the engine when doing top speed runs.
Thanks to VW's new Vehicle Dynamics Manager, an electromechanical front-axle locking differential and XDS electronic differential lock, understeering is all but eliminated from the GTI Clubsport 45. You can make the car even more stable by opting for the optional Dynamic Chassis Control (DCC) adaptive damper system, but this will add extra costs to your monthly price.
Exterior Design
The GTI Clubsport 45 gets some unique changes on the outside that facilitates an aggressive and assertive design. The standard GTI Clubsport already had an extremely sporty aesthetic so Volkswagen have added a few tweaks to further refine that.
It features a set of dynamic 19-inch 'Scottsdale' alloy wheels that have a high-gloss black finish and Tornado Red pinstripe around the rims. This goes well with the Moonstone Grey featured in the promotion images. The cars anniversary status is shown off with '45' decals on the side sill panels which are instantly noticeable. It also features a metallic black finish to the door mirror covers and spoiler.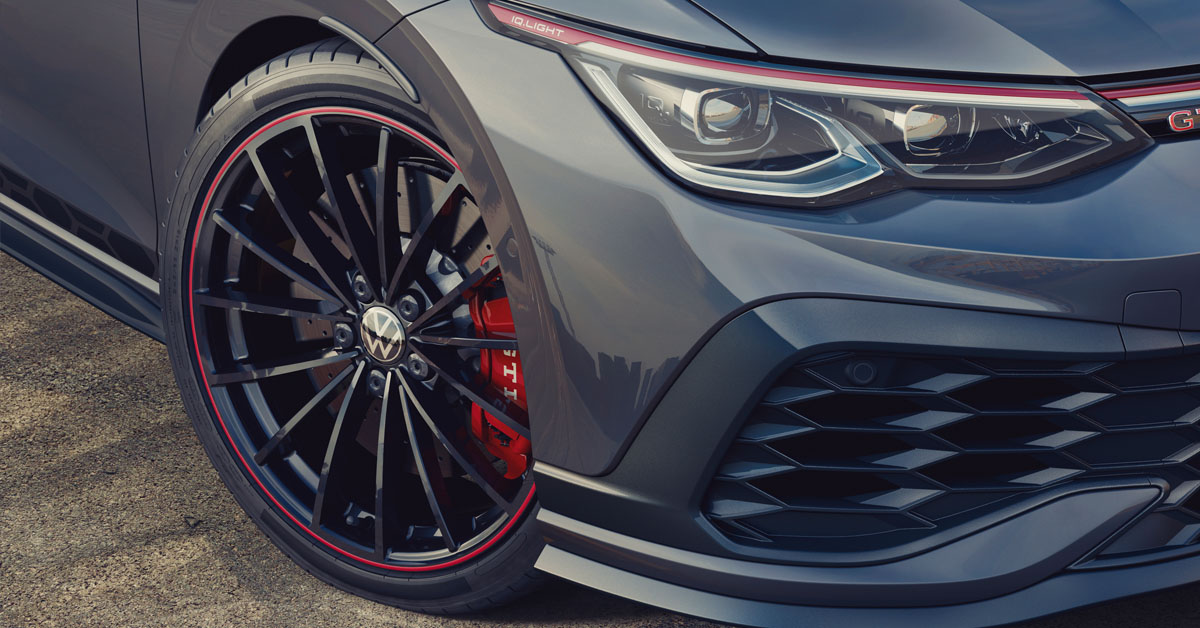 It also gets an Akrapovic titanium sports exhaust system as standard which not only improves the engines sound but also improves exhaust flow and reduces the overall weight of the car. Meaning acceleration will be just that little quicker. We think VW have been modest with the 0-62mph figure and it should be a little bit quicker than that.
Interior Design
Inside the GTI Clubsport 45 likes to remind you of its status. With '45' lettering and emblems appearing on the backrest of the front sports seats and in the centre spoke of the sporty flat-bottomed steering wheel. The door panels and sports seats are lined with Artvelours upholstery and a leatherette arm support in the centre adds sporting luxury to the interior.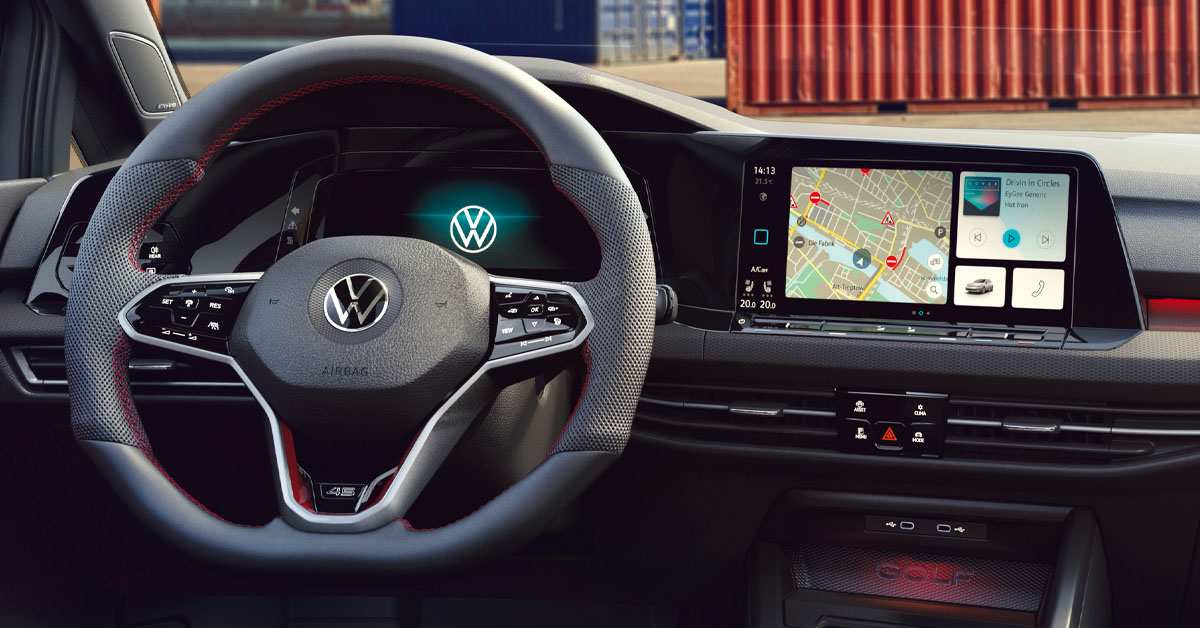 You get VW's Discover Navigation System as standard, but you can upgrade to Discover Navigation Pro which includes lots more features. A rear view camera isn't standard sadly but is definitely worth adding to keep your Clubsport 45 safe when reversing. The car comes with Adaptive Cruise Control and customisable ambient lighting, climate control and front and rear parking sensors.
Lisa Hartley, Golf Product Manager at Volkswagen UK, said: "The Golf GTI Clubsport 45 celebrates 45 years of the Golf GTI in style. It's the latest in a long line of GTI anniversary special editions and offers a greater level of dynamic engagement and agility than ever before. The Clubsport 45 is a piece of Volkswagen heritage in motion – the latest chapter in the ongoing Golf GTI story, 45 years –and counting – in the making. It is no exaggeration to call the GTI an automotive icon".
Visit our Volkswagen Golf GTI Clubsport 45 Edition lease deals page if you're interested in learning more.
Established in 2009, Stable Vehicle Contracts are a UK based premium vehicle leasing company. We are part of a large, privately owned, Volkswagen and Audi dealership group with over 25 sites. Stable Vehicle Contracts has the ability to offer the very best car and commercial vehicle lease deals and thanks to our partners in the trade, we've become leaders in the supply of cars and commercial vehicles through leasing. Give us a call today on 0151 728 4711 or visit our Special Offers page to see what deals we have on.