VW Golf R Mk8 vs Golf GTI Clubsport | Which Should You Choose?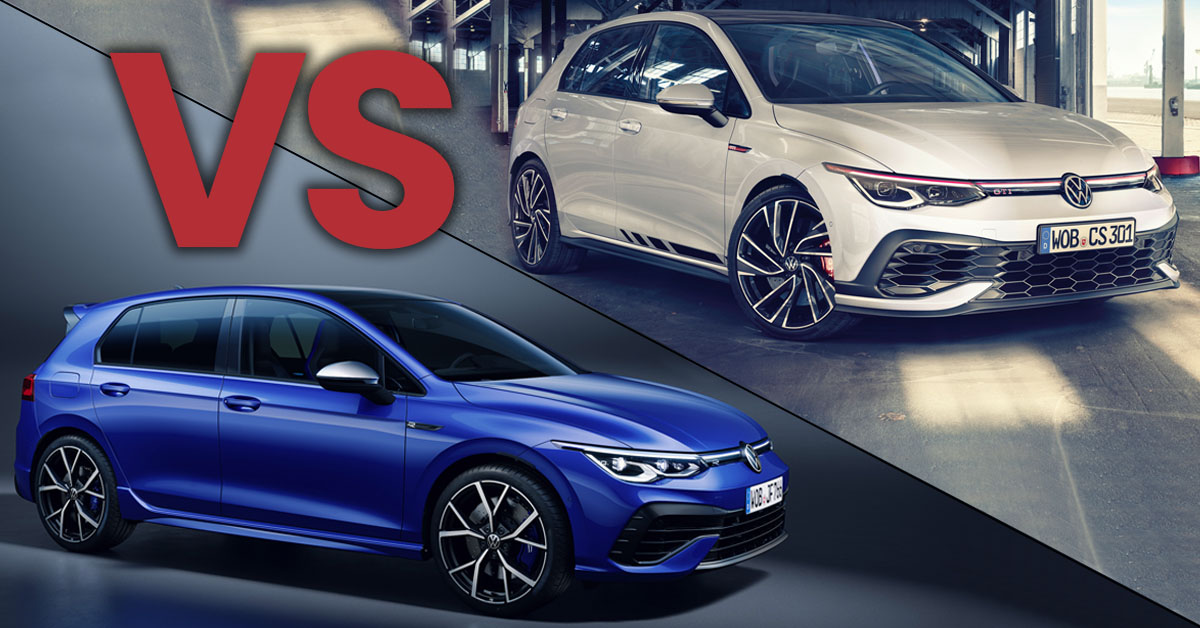 Posted in
Volkswagen
On By
Aaron
The Volkswagen Golf R Mk8 and new GTI Clubsport are VW's top-performing hot hatches for 2021. But which one is worth buying out of the two hot hatches?
The Volkswagen Golf R Mk8 and 2021 Golf GTI Clubsport are the most eagerly anticipated hot hatches from VW's Golf range. Both of them are performance-orientated but bring different driving experiences to the table. The Golf range is and has been represented by the performance diesel GTD, the powerful hybrid GTE and popular petrol GTI. Now with the latest R and GTI Clubsport, Volkswagen fans have more choice than ever before when it comes to choosing a Golf.
Volkswagen Golf GTI Clubsport
Here's a quick rundown of the specs**
| | | | |
| --- | --- | --- | --- |
| Powertrain | Price RRP OTR | CO2 (WLTP, g/km) | MPG (WLTP) |
| 2.0 TSI 300bhp 7-speed Auto FWD | £37,215 | 167-170 | 37.7-38.2 |
The Golf GTI Clubsport builds upon the already successful GTI formula by offering an impressive turbocharged 2.0-litre four-cylinder motor that offers up to 300bhp. This gives the GTI Clubsport around 400nm of torque and propels the car from 0-62mph in just 5.6 seconds. This essentially makes it the fastest GTI ever made. It features a brand new driving mode called 'Special', developed specifically for the demanding conditions of the Nürburgring race track. A large two-part spoiler adorns the back which results in more downforce under acceleration and a new front bumper which offers brand new styling, unseen on previous GTI's.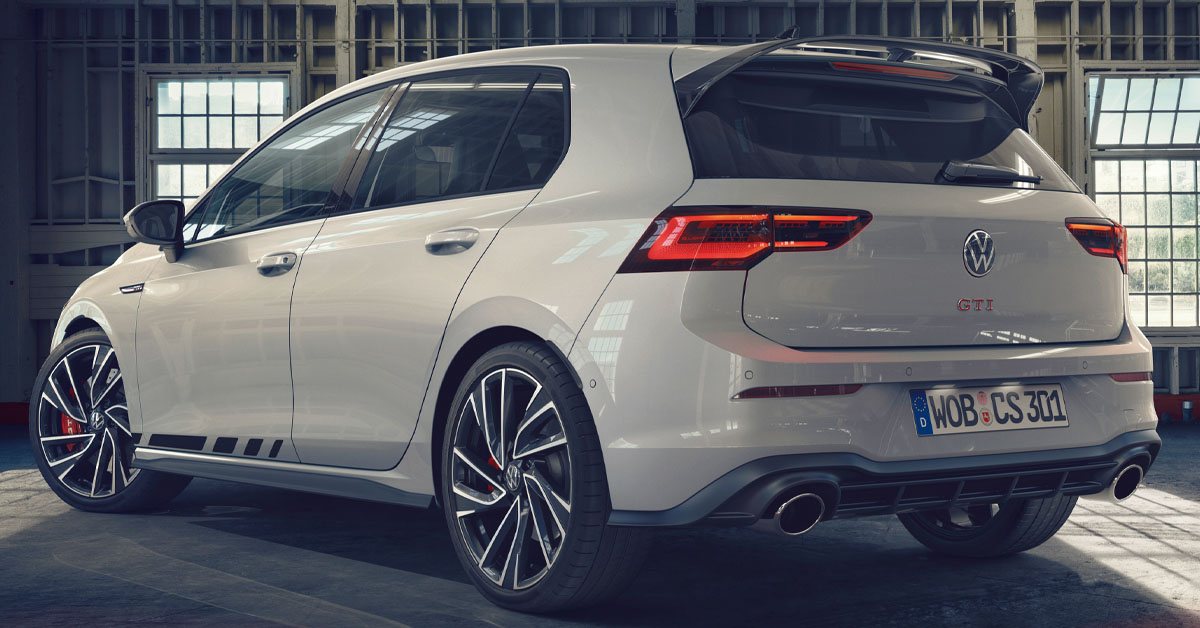 In addition to the brand new exterior design and performance upgrades, the Golf GTI Clubsport offers a great deal of technology inside. Volkswagen's Digital Cockpit Pro and Discover Navigation System offer great convenience and making daily driving easier. It's also fitted with larger brakes compared to previous GTI's, which means the GTI Clubsport can come to a stop far quicker. Optional Dynamic Chassis Control (DCC) can be specced to make the GTI Clubsport feel even better to drive thanks to the adaptive damper system.
The Golf GTI Clubsport is a front-wheel-drive performance car, which any GTI fan knows that under hard acceleration can cause wheelspin and understeer. But thanks to an electromechanical front-axle locking differential and XDS electronic differential lock, the GTI Clubsport eliminates any form of understeer completely.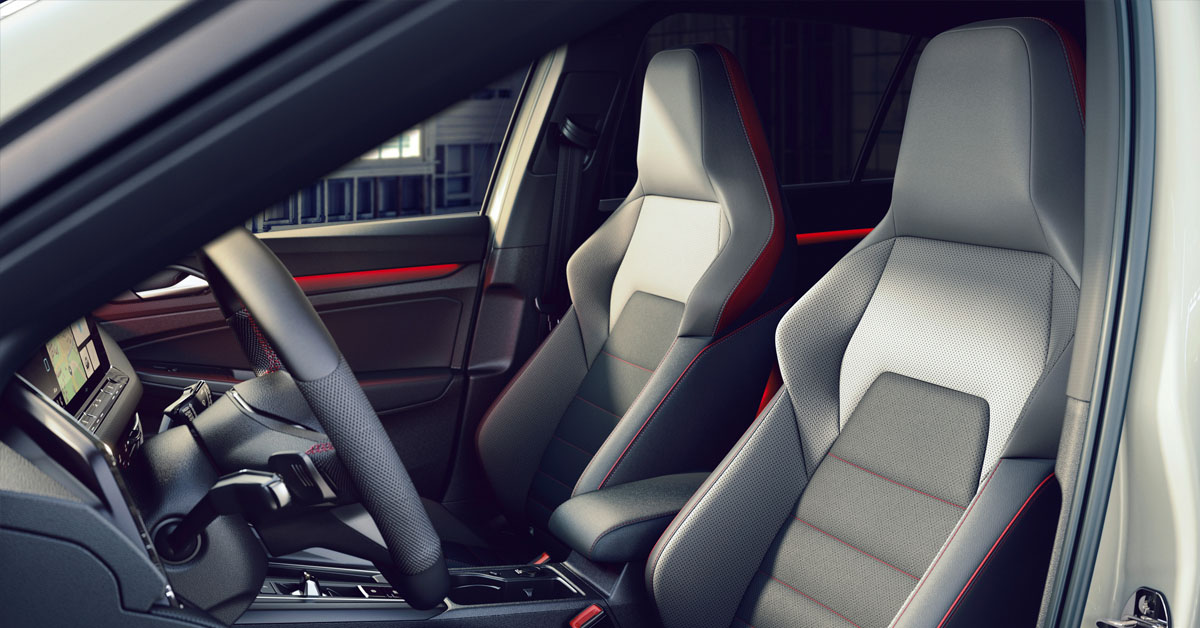 The main attraction for the new GTI Clubsport is the exterior design changes. The new front bumper and splitter are beautifully designed and give the GTI Clubsport an aggressive demeanour. The rear of the car features new oval tailpipes, which distinguish it from the standard GTI which has circular pipes. These sit further apart either side of an enhanced diffuser which makes the rear look like a performance-focused car from the get-go.
Volkswagen Golf R Mk8
Here's a quick rundown of the specs**
| | | | |
| --- | --- | --- | --- |
| Powertrain | Price RRP OTR | CO2 (WLTP, g/km) | MPG (WLTP) |
| 2.0 TSI 320bhp 7-Speed Auto AWD | £39,270 | 177-181 | 35.3-36.2 |
The Volkswagen Golf R returns with brand new Mk8 styling and improved performance. Now delivering a potent 320bhp from the turbocharged 2.0-litre four-cylinder engine, the Golf R Mk8 sprints from 0-62mph in 4.7 seconds and produces 420nm of torque. This makes the Golf R the fastest Golf in VW's arsenal. It's limited to 155mph top speed but can be increased to 168mph with the optional R-Performance Pack which will cost £2,000 extra.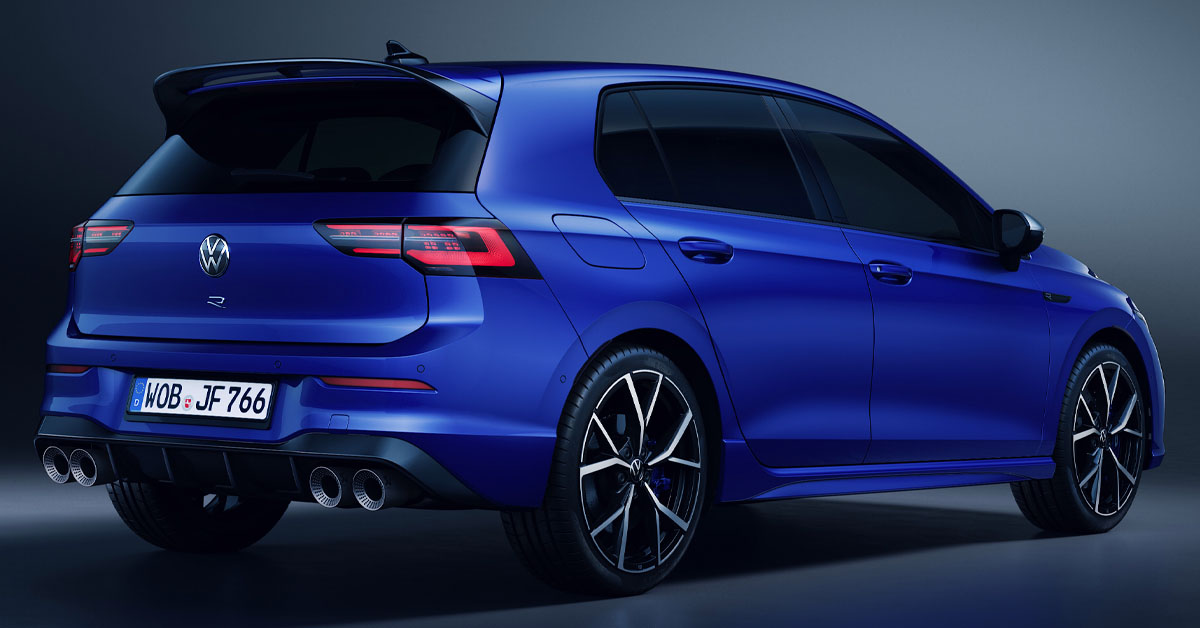 The revised EA888 evo4 engine comes with a slick 7-speed automatic gearbox with the lively all-wheel-drive transmission, which we've come to know and love. It also comes with two brand new modes to play with when you opt for the R-Performance Pack. The new 'Drift' mode allows the all-wheel-drive system to intelligently deliver more power to the front and rear wheels when needed. This means up to 100% of torque can be delivered to the rear wheels during a bend that allows the Golf R Mk8 to gracefully drift through.
The new 'Special' mode provides a boost to the Golf R's Dynamic Chassis Control (DCC), progressive steering and all-wheel-drive system, meaning the car becomes more focused for the race track. It also increases the engine sound so you get great feedback from the car under hard acceleration. Like the GTI Clubsport, this mode was developed specifically for the Nürburgring, but we already know it's going to be used on race tracks in the UK.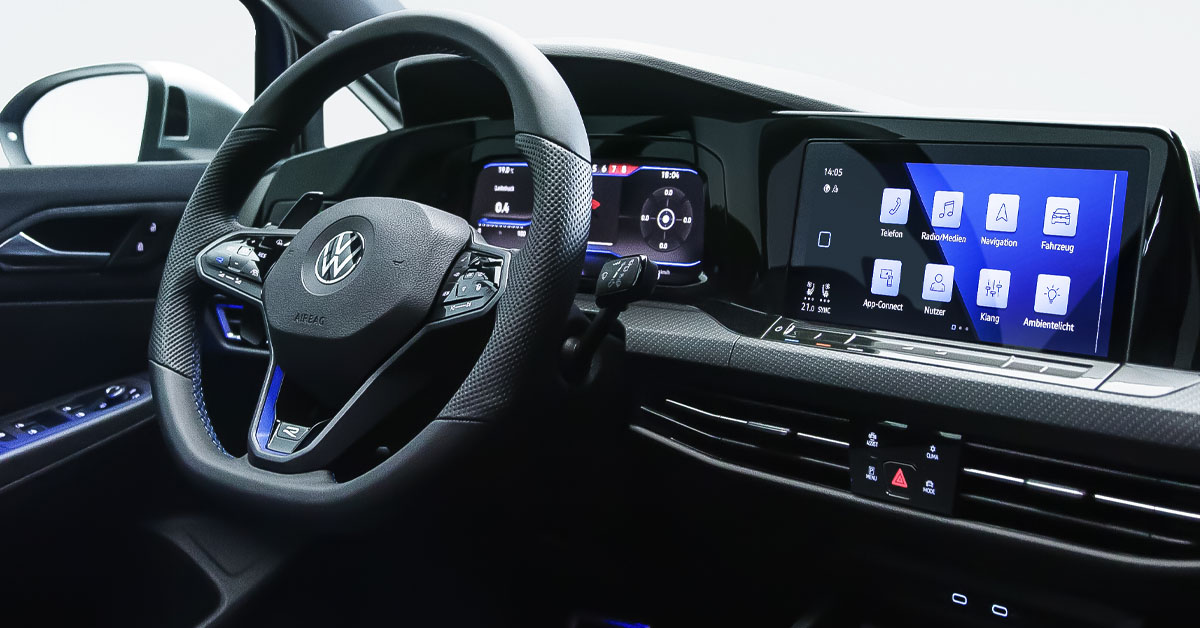 The standard VW Golf R Mk8 comes with 18-inch 'Jerez' alloy wheels, the Mk8 revised R body kit and beautiful rear quad exhaust pipes. A brand new R button sits on the updated steering wheel, which allows the car to be put into Race Mode from just the click of a button. A fantastic option when you arrive on those twisty country lanes. Extended paddle shifters allow more comfortable shifting when needed and comfortable sports seats feature a 'Sardegna' design in black-blue cloth which is unique to the R model. The brake calipers are finished in Volkswagen R Blue and are adorned with the R logo which gives the Golf R the premium look it deserves.
Optional R-Performance Package
The optional R-Performance pack is available for the Golf R Mk8 and offers some great extras to improve your driving experience. The package costs £2,000 on top of the £39,270 price tag and adds some nice features. You get the attractive 19-inch 'Estoril' alloy wheels, a performance rear spoiler for added downforce under hard acceleration and an increased top speed of 168mph. You also get to play with the two new performance modes 'Special' and 'Drift'.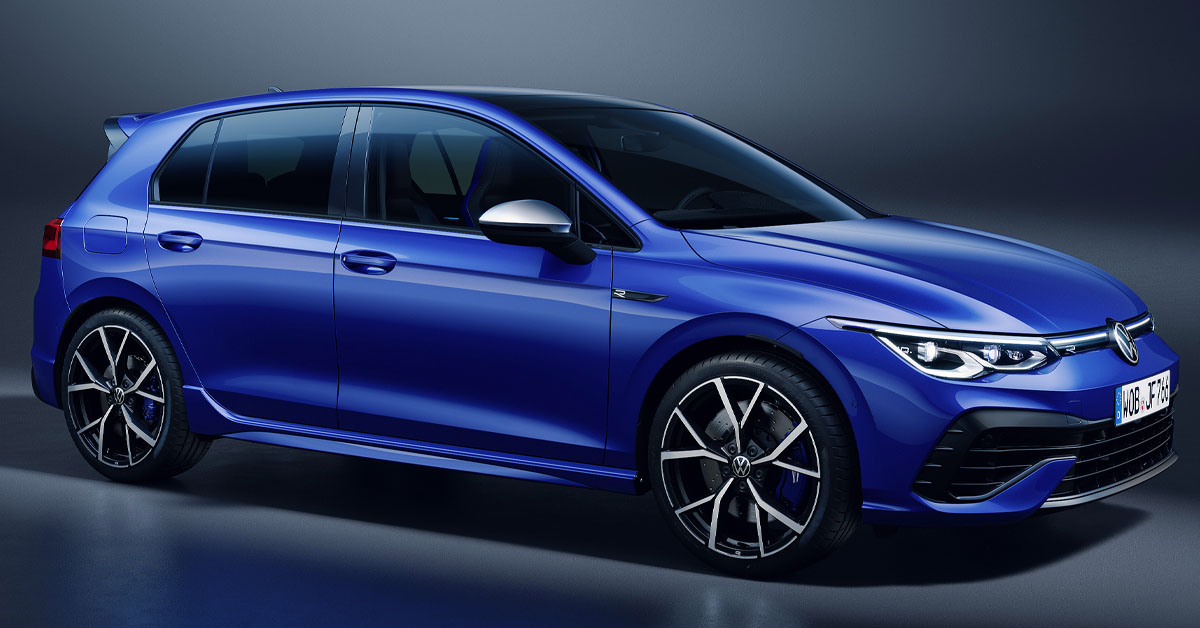 So which should you choose?
This is completely down to personal preference. But here are our thoughts:
Do you want a faster, more powerful car? Choose the Golf R due to its quicker 0-62 and larger horsepower figure
Do you want a car that feels more planted in corners, safer in winter and on loose surfaces? Choose the Golf R thanks to its all-wheel-drive system
Do you want a car that feels more lively and fun to drive? Choose the GTI Clubsport due to its front-wheel-drive system and higher driver involvement
Do you want a car that offers performance at a good price? Choose the GTI Clubsport due to it being £2,000 cheaper
Do you prefer the new Golf R Mk8 styling? Choose the Golf R for obvious reasons
Do you prefer the new Golf GTI Clubsport styling? Choose the GTI Clubsport for obvious reasons
Do you want a car that has better gas mileage? Choose the GTI Clubsport as it has slightly better MPG figures
Final thoughts...
The Golf R Mk8 will provide an overall safer drive than the GTI Clubsport. This is due to the all-wheel-drive system being great in winter and providing that extra traction in corners and over the uneven surfaces of the UK's pothole infested roads. The Golf R also provides the quicker 0-62mph figures and comes with an extra 20bhp that offers an extra 20nm of torque, which is definitely more fun when putting your foot down.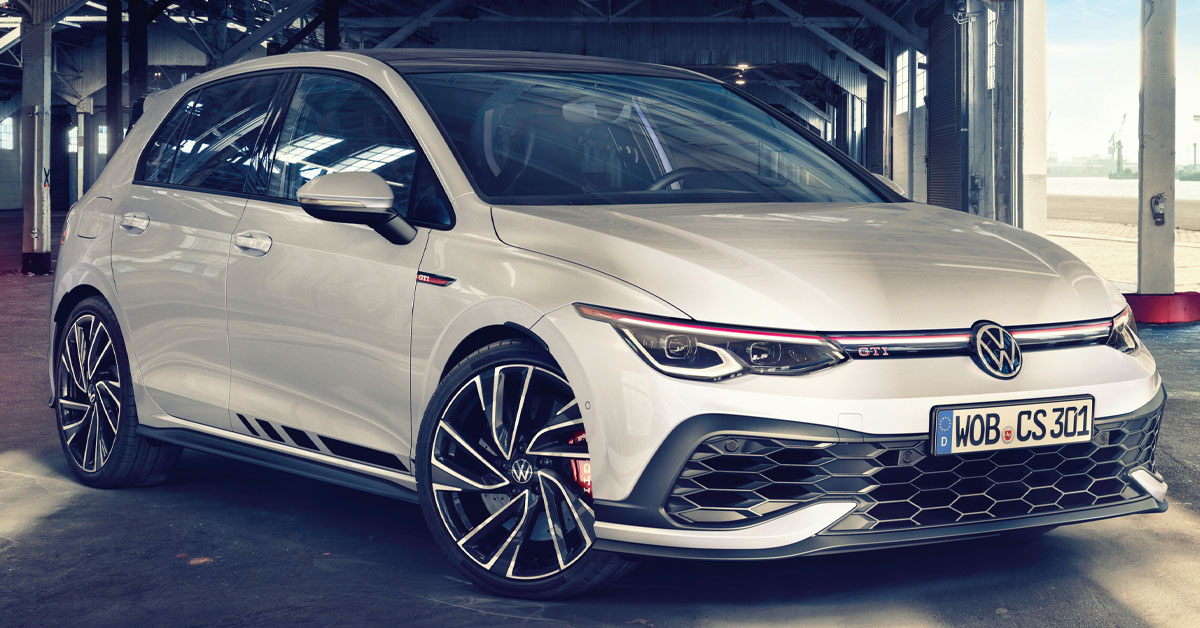 But the driving involvement of the front-wheel-drive GTI Clubsport will be unmatched. Thanks to the new electromechanical front-axle locking differential, the new GTI Clubsport will provide great feedback under heavy acceleration and understeer and wheelspin will be kept to a minimum. Driving during winter, over uneven or loose surfaces and accelerating hard during corners will definitely need more focus and driving involvement than the Golf R. Many GTI drivers actually prefer the involvement the front-wheel-drive system requires and find the style of driving to be more fun. The power difference isn't super huge either, with the 0-62mph time being 1.1 seconds slower than the R.
The new GTI Clubsport also provides the brand new styling, which looks absolutely immaculate and actually gives the Clubsport a meaner persona than the Golf R does.
We hope this gives you an insight into which Golf you should choose between these two brilliant hot hatch powerhouses.
Fancy leasing either one of these cars?
Leasing can be far cheaper compared to PCP or outright buying. Stable Vehicle Contracts offers great prices for Golf GTI Clubsport and Golf R leasing. Please visit our Volkswagen Golf leasing page to compare prices. New to leasing? Why not view some of our Leasing Guides to get a better idea of how leasing works. Alternatively, feel free to visit our Contact Us page to get in touch with us.
** All vehicle data taken from Volkswagen Newsroom Golf GTI Clubsport Press Release and Volkswagen Newsroom Golf R Mk8 Press Release
Established in 2009, Stable Vehicle Contracts are a UK based premium vehicle leasing company. We are part of a large, privately owned, Volkswagen and Audi dealership group with over 25 sites. Stable Vehicle Contracts has the ability to offer the very best car and commercial vehicle lease deals and thanks to our partners in the trade, we've become leaders in the supply of cars and commercial vehicles through leasing. Give us a call today on 0151 728 4711 or visit our Special Offers page to see what deals we have on.