2021 Audi e-tron GT & RS Models Revealed | Price, Specs & Release Date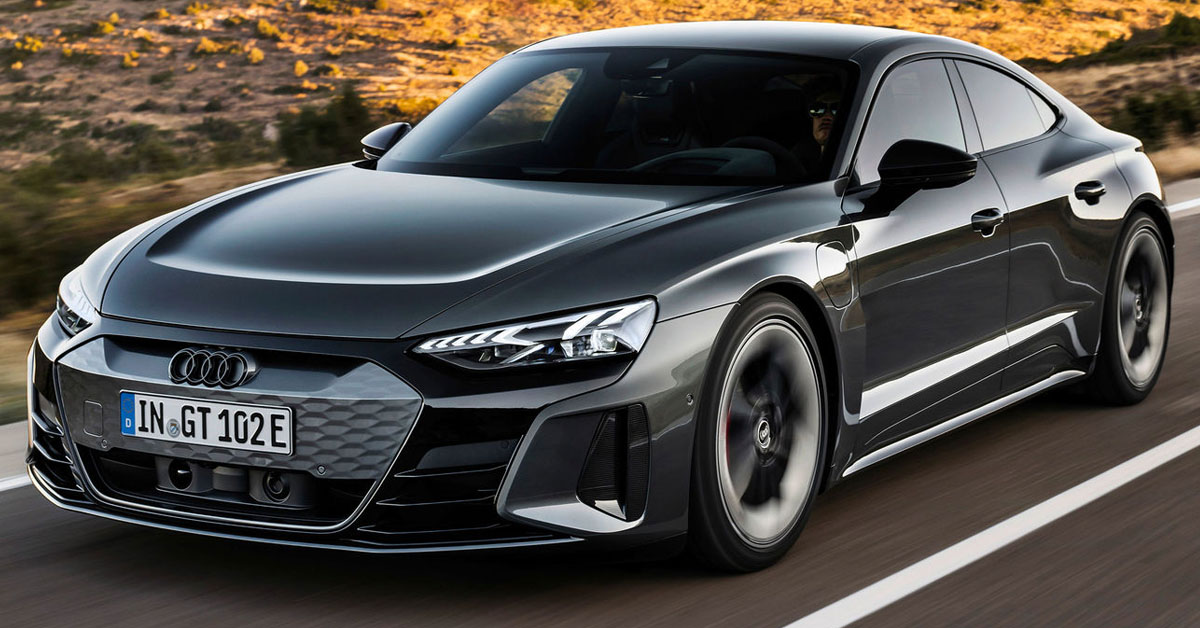 Posted in
Car News
On By
Aaron
The Audi e-tron GT and RS e-tron GT all-electric sports cars have been revealed. The Audi e-tron GT is an alternative to the Tesla Model S and Porsche Taycan.
Brand new all-electric car Audi e-tron GT
Comes in four-door coupe body style
Dual electric motors provide 476bhp
Features 'boost' mode which provides up to 530bhp
Offers 93kWh battery with a 300-mile range
Up to 270kW maximum charging capacity
Basic model to cost £87,000
First-ever all-electric Audi RS model included
RS model provides up to 598bhp
RS model also features 'boost' mode which provides up to 646bhp
RS e-tron GT model to cost £121,000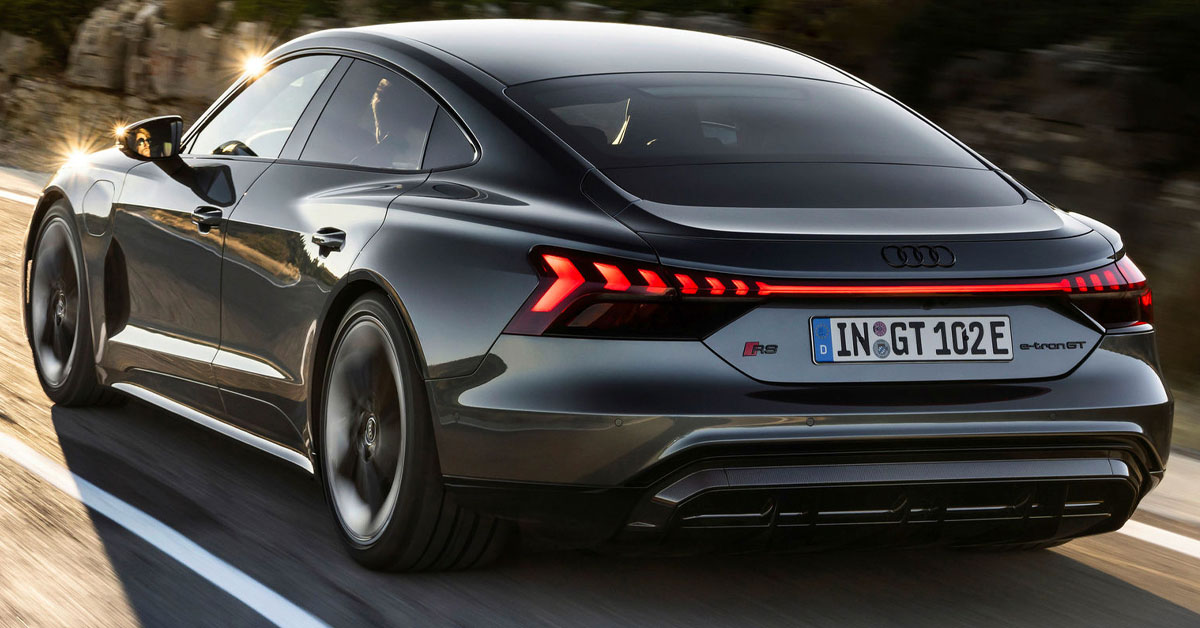 The Audi e-tron GT was revealed on 9th February 2021. It's a sporty four-door coupe that takes on the likes of the Tesla Model S and the popular Porsche Taycan. It's Audi's first non-SUV electric car, as the only previous electric cars built by Audi were the e-tron and e-tron Sportback. It also features Audi's first-ever all-electric RS model, the Audi RS e-tron GT, which is a performance-orientated version of the standard e-tron GT.
Audi e-tron GT & RS e-tron GT specs
The design
The Audi e-tron GT not so long ago released a concept design and the final car more or less mirrors that concept. It features a prominent and sleek design, with a striking front end and splitter, devoid of a radiator grille we've gotten so used to with fuel-based cars. Although it does have some grille mesh parts here and there, they're mostly for show as electric cars have no radiators that need cooling.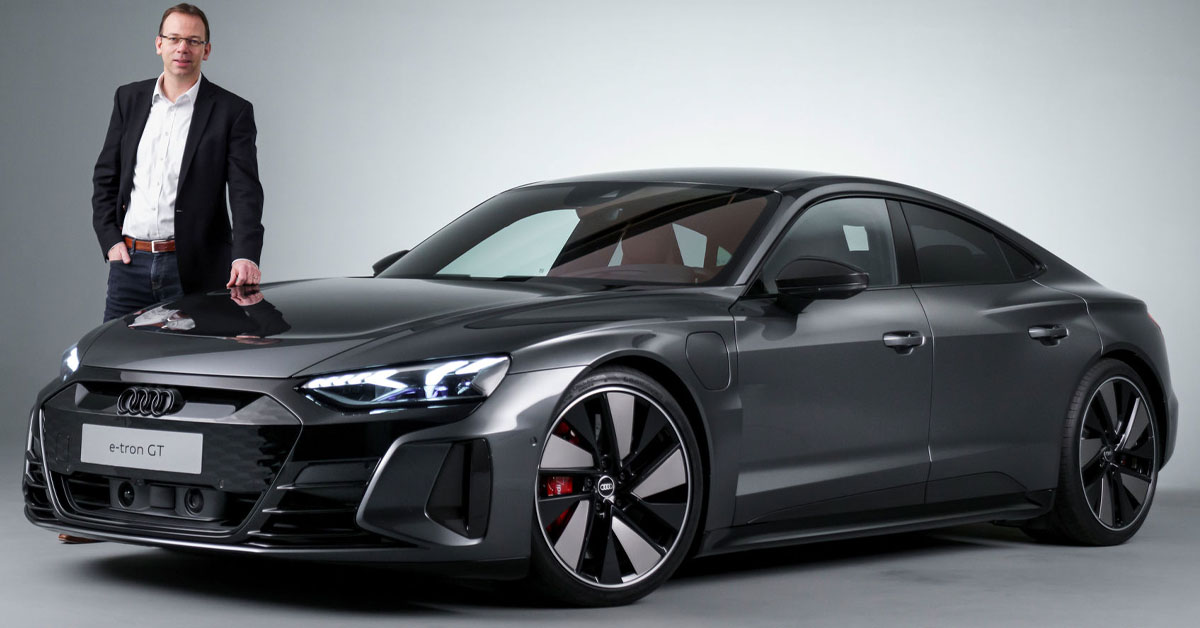 The rear end has a large swooping window that comes down to full-length LED brake and taillights, which look absolutely gorgeous and are taken from the Audi RS7 Sportback rear end. The rear bumper features a full-length diffuser with several individual slats which gives it a particularly aggressive look. There are no exhaust pipes, but the e-tron GT doesn't need them to look good.
The e-tron GT is a seriously attractive car overall with lots of eye-catching features. Interestingly enough, the car is quite long, almost as long as the gigantic Audi Q8, but it's fairly low to the ground. In fact, it's one of Audi's lowest ground clearance cars, but this means the e-tron GT produces minimal amounts of drag and is able to accelerate extremely quickly.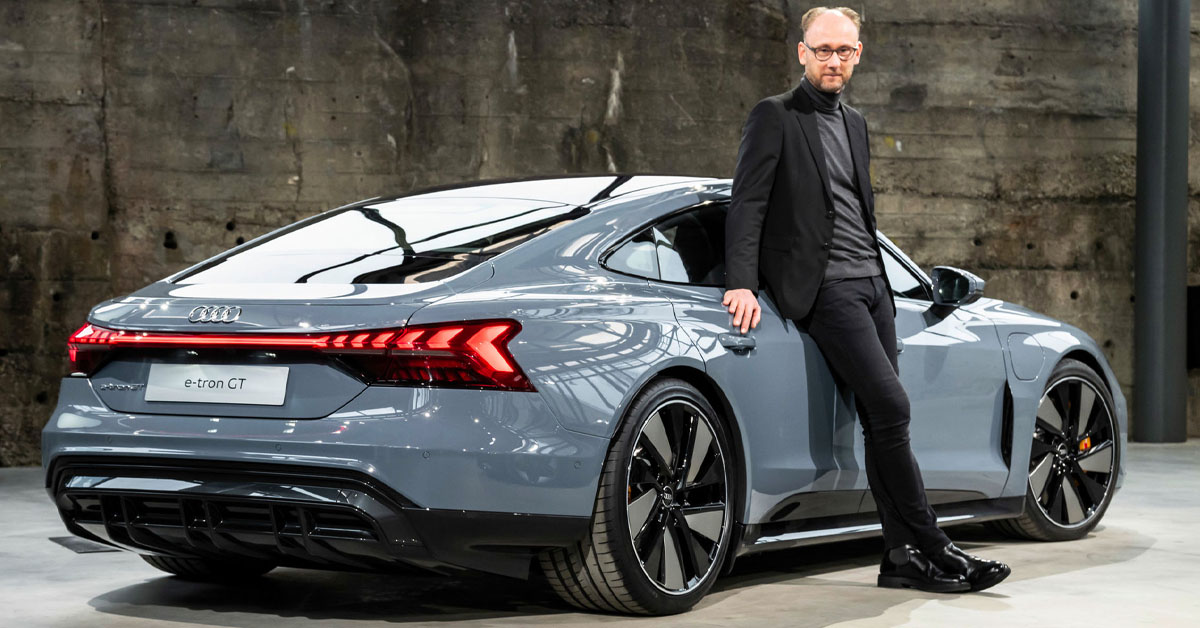 The motors
The Audi e-tron GT comes with dual electric motors. One powers the front wheels and the other powers the rear. Together the dual electric motors give the standard e-tron GT an output of 476bhp, which puts it above the latest Audi RS5 engine, which comes at 450bhp. There's also a shortly timed 'Boost' mode which bolsters the car's performance and gives you 530bhp. This mode only lasts for 2.5-seconds but is enough time for the dual motors to propel you to the horizon in no time.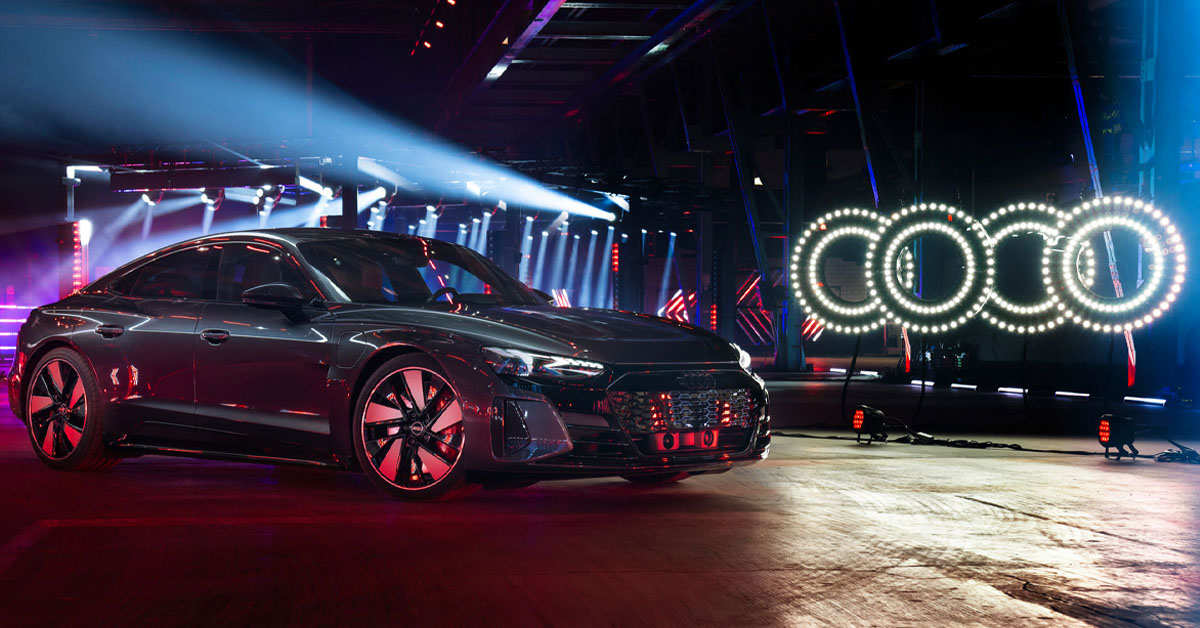 The e-tron GT comes with a two-speed rear gearbox which is the same as the Porsche Taycan. This particular function is intelligently controlled by the car's computer and switches between the two gears when more power is needed, with first gear being primarily used at low speeds and with launch control. With launch control and 'Boost' mode enabled, the e-tron GT will do 0 to 60mph in just 4.1 seconds. This is seriously impressive for a car that matches the Q8 in length and isn't particularly lightweight.
As with most modern Audi models, you get a selection of driving modes as standard. 'Efficiency' mode limits the top speed of the e-tron GT and lowers the suspension to enhance the cars wind drag reduction, resulting in saved miles on your batteries range. 'Dynamic' mode gives you the maximum amount of power from the battery, forgoing any range saving properties, as well as stiffing up the suspension for some hard acceleration fun.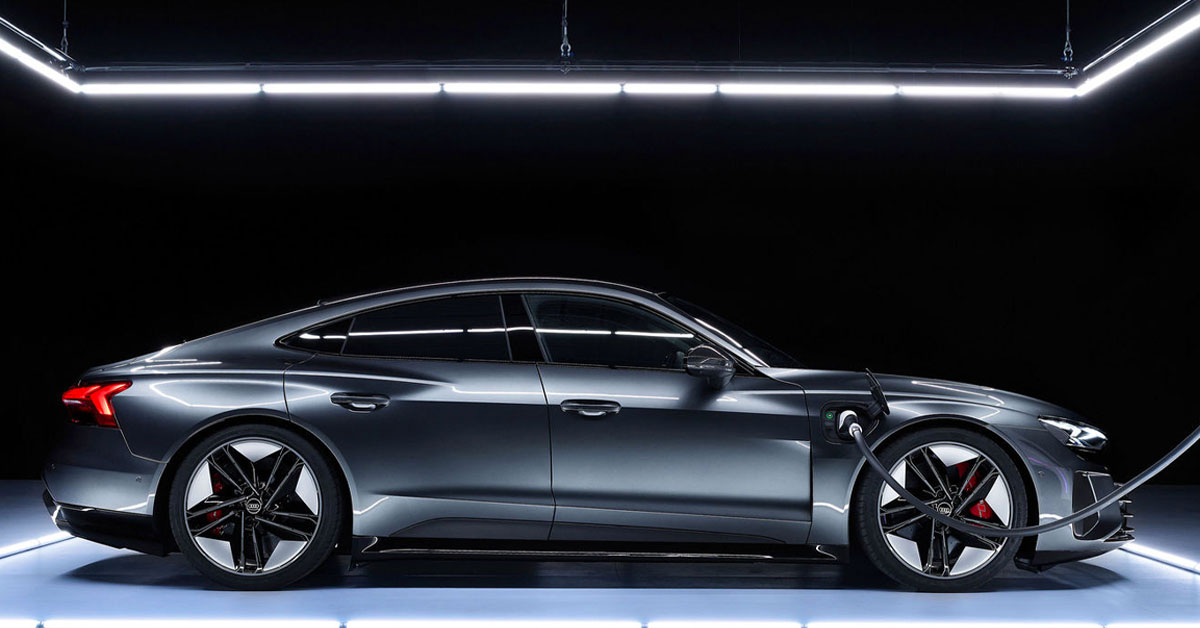 The Audi RS e-tron GT features upgraded versions of the e-tron GTs dual electric motors. These produce a total of 598bhp which can be further increased with 'Boost' mode, up to a maximum of 646bhp. This makes the RS e-tron GT one of the most powerful cars in Audi's arsenal, producing more horsepower than even the RS6 Avant and the RS7 Sportback. Audi have said that the RS e-tron GT will do 0 to 60mph in a brisk 3.3 seconds, which makes it the fastest RS model ever made.
The RS e-tron GT also features an active rear differential and adaptive air suspension, which the standard e-tron GT doesn't come with. These particular features help to keep the car planted during high speed turns and uneven roads.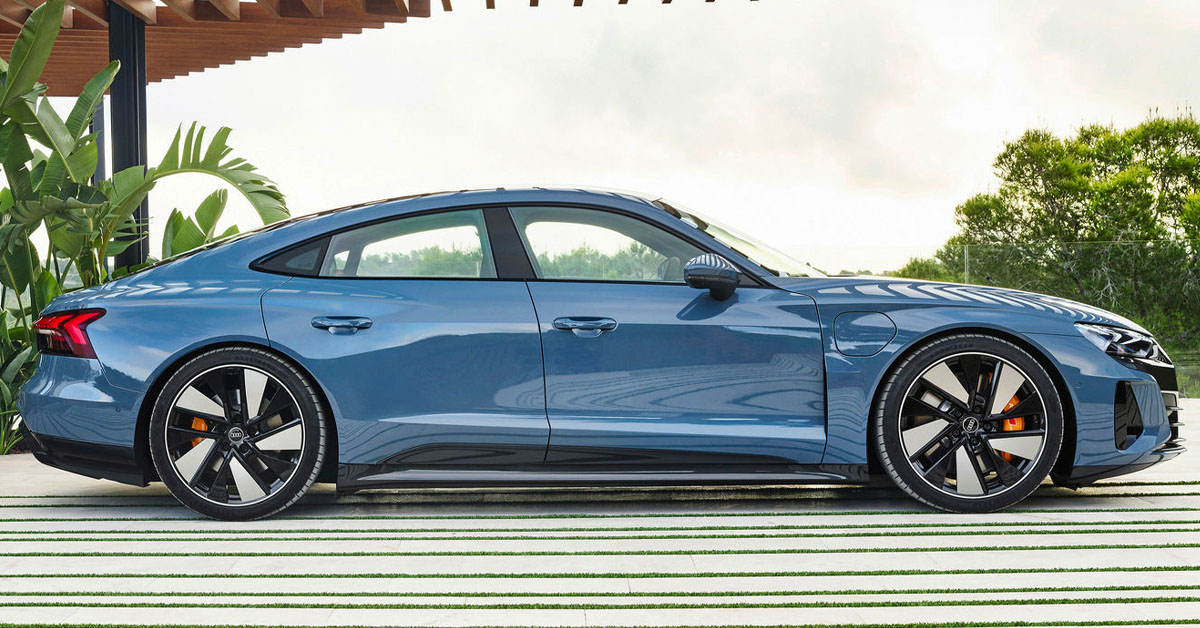 The interior
As with all Audi's the e-tron GT comes with a plush premium interior that oozes style and class. The interior is packed with high-quality materials, fabrics and chrome pieces that offer an exceptionally upmarket feeling. The e-tron GT comes with a flat bottomed steering wheel as standard, with digital cockpit and centre touchscreen infotainment system commanding all the attention. A full-length walnut wood design runs the entire width of the dashboard and parts of the doors, which looks fantastic.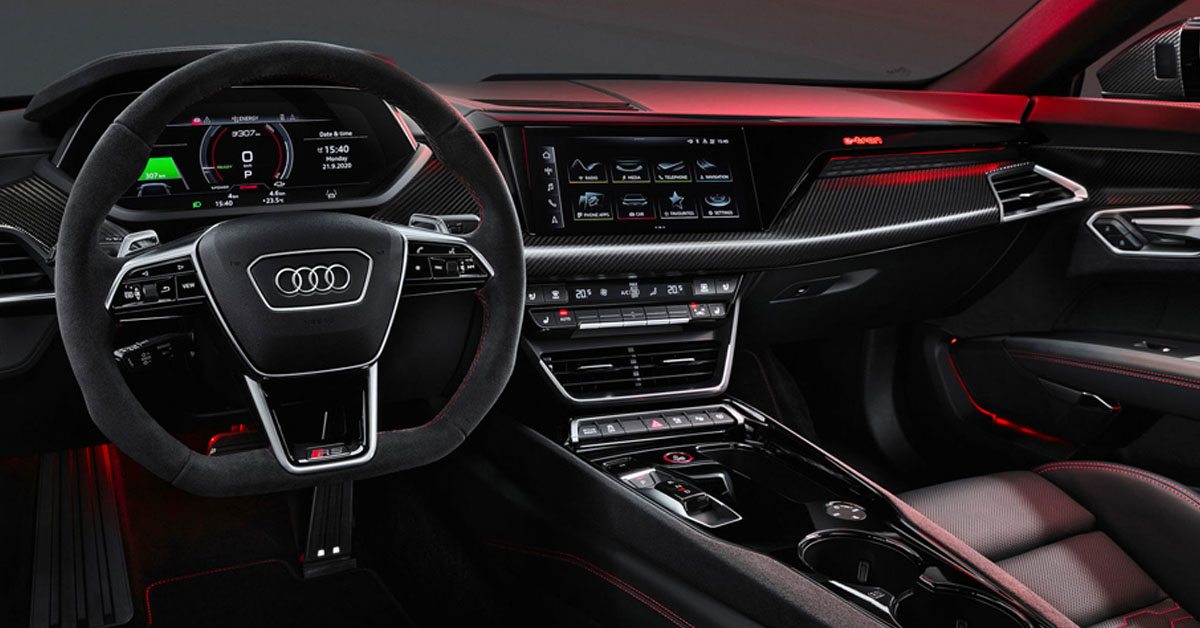 Audi have taken customer feedback seriously regarding the fiddly controls when it comes to heating and air conditioning in previous models. The controls now sit underneath the infotainment screen and interestingly enough, Audi have reverted back to standard buttons. This means it'll alleviate having to take your eyes off the road when it comes to playing with the pesky touchscreen when you just want to turn the heating on.
Ambient lighting is an optional feature and means you can personalise the e-tron GT to your liking when it comes to interior colours. If you're feeling environmentally friendly, you can opt for a vegan-friendly inclusive of faux leather and trimmings made from recycled plastic. The front sports seats are incredibly comfortable, made with two types of leather and the steering wheel and other parts of the trimming are made with a combination of Dinamica and Alcantara.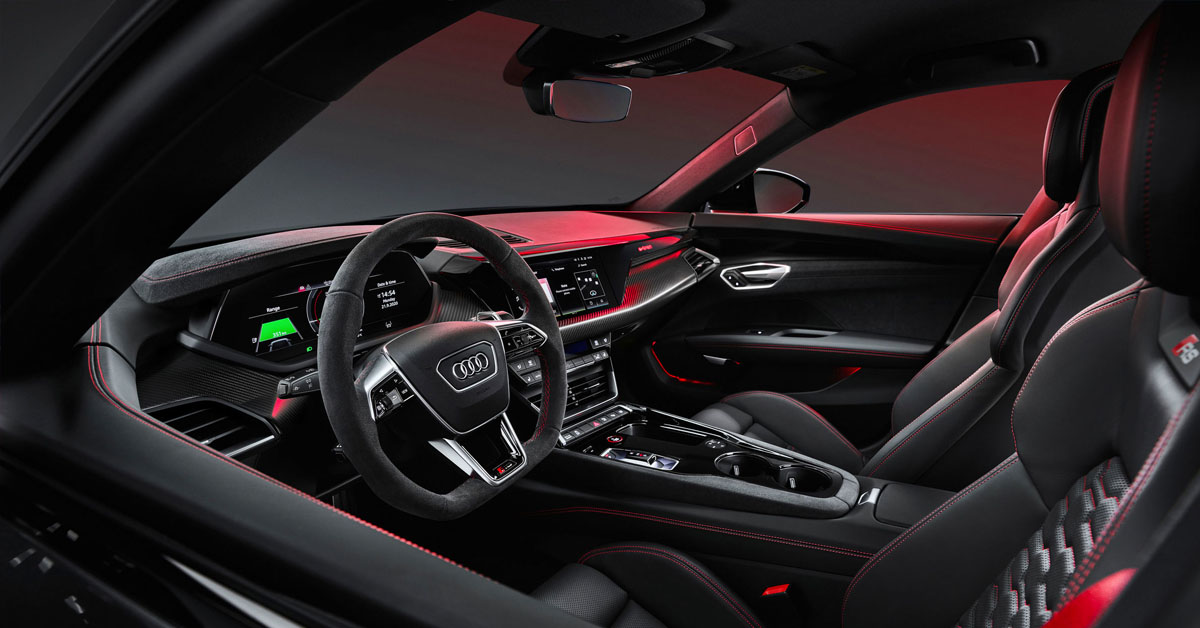 Although the e-tron GT is a sports car at its core, it's still reasonably practical on storage and passenger space. The rear passenger ceiling is just high enough for most people to be comfortable, but any super tall occupants will find their head touching the top. The long and low clearance coupe provides a fairly reasonable 405-litres of boot space and another 85-litres of space under the bonnet. Though the front bonnet space will more than likely be taken up as charging cable storage, you can still fit a backpack or two in there.
The battery
In order to reduce confusion with battery sizes, Audi have opted to keep every model of the e-tron GT, including the RS model, with a 93kWh battery. This battery provides an excellent range of around 300-miles says Audi, but as with all electric cars, real-world miles may be potentially less. The e-tron GT will be possible to charge with standard home chargers 3, 7 and 11kW. An 11kW home charger will be enough to charge the e-tron GT from 0 to 100% overnight. But the 3 and 7kW chargers will take significantly longer.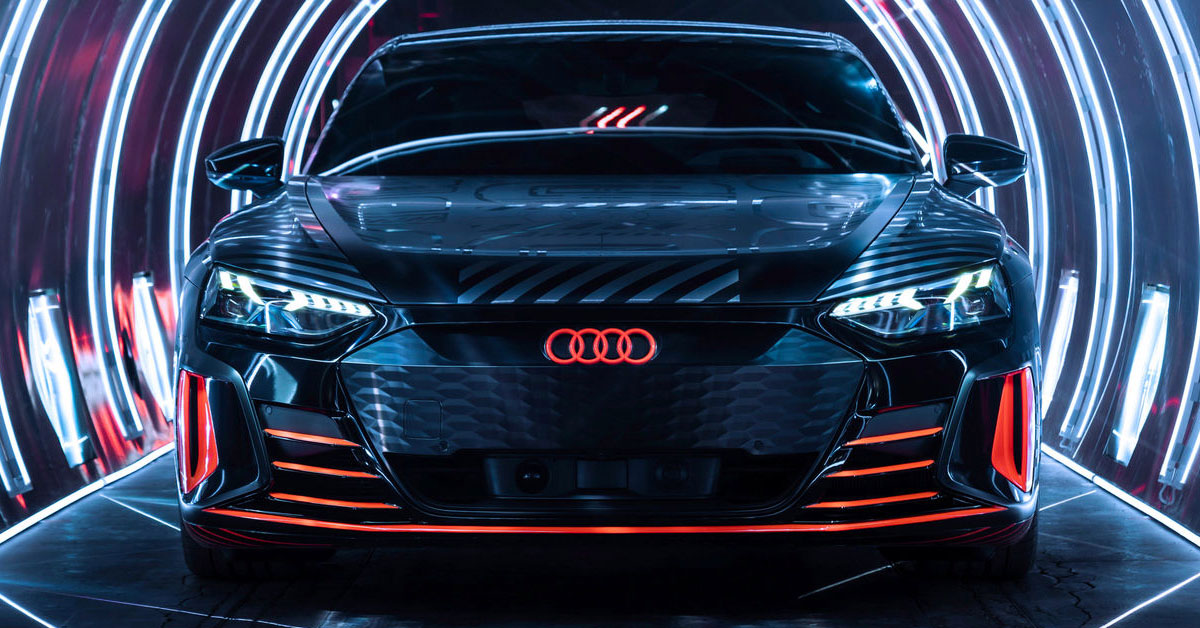 Audi have already mentioned a future upgrade for the e-tron GT, which will be the ability to plug in a 22kW charger. So you'll be able to charge significantly faster whilst you're in work. The e-tron GT features the ability to connect to public rapid chargers 50kW and upwards. The most powerful available ultra-rapid chargers provide up to 270kW of power and can charge your e-tron GT from 10% to 80% in just 20 minutes.
Audi e-tron GT & RS e-tron GT price
Audi have released presale prices for the Europe sales of the e-tron GT and RS e-tron GT. The standard Audi e-tron GT will cost €99,800 and the RS e-tron GT will be €138,200. Converted to GBP, you'll be looking at £87,000 for the standard car and £121,000 for the RS model.
Audi e-tron GT & RS e-tron GT release date
The Audi e-tron GT and RS e-tron GT are set to launch simultaneously, with UK sales starting in May 2021.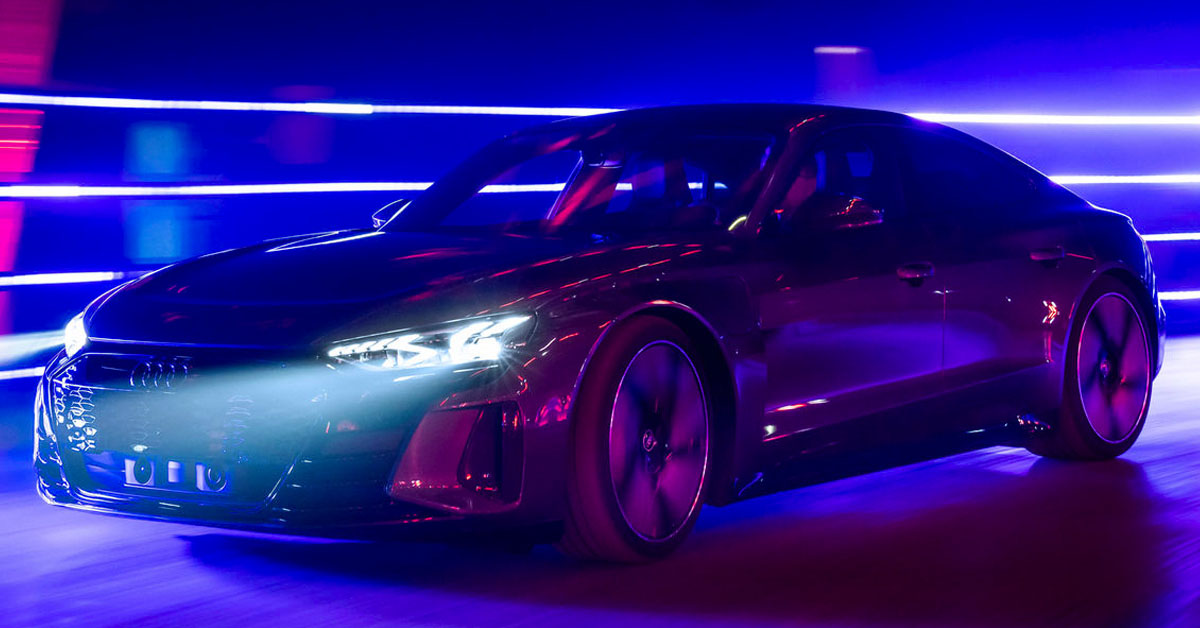 All data in this article has been checked and taken from www.e-tron-gt.audi and the February 2021 Audi e-tron GT press release.
Established in 2009, Stable Vehicle Contracts are a UK based premium vehicle leasing company. We are part of a large, privately owned, Volkswagen and Audi dealership group with over 25 sites. Stable Vehicle Contracts has the ability to offer the very best car and commercial vehicle lease deals and thanks to our partners in the trade, we've become leaders in the supply of cars and commercial vehicles through leasing. Give us a call today on 0151 728 4711 or visit our Special Offers page to see what deals we have on.