2021 Volkswagen Golf R Mk8 Colours Guide and Prices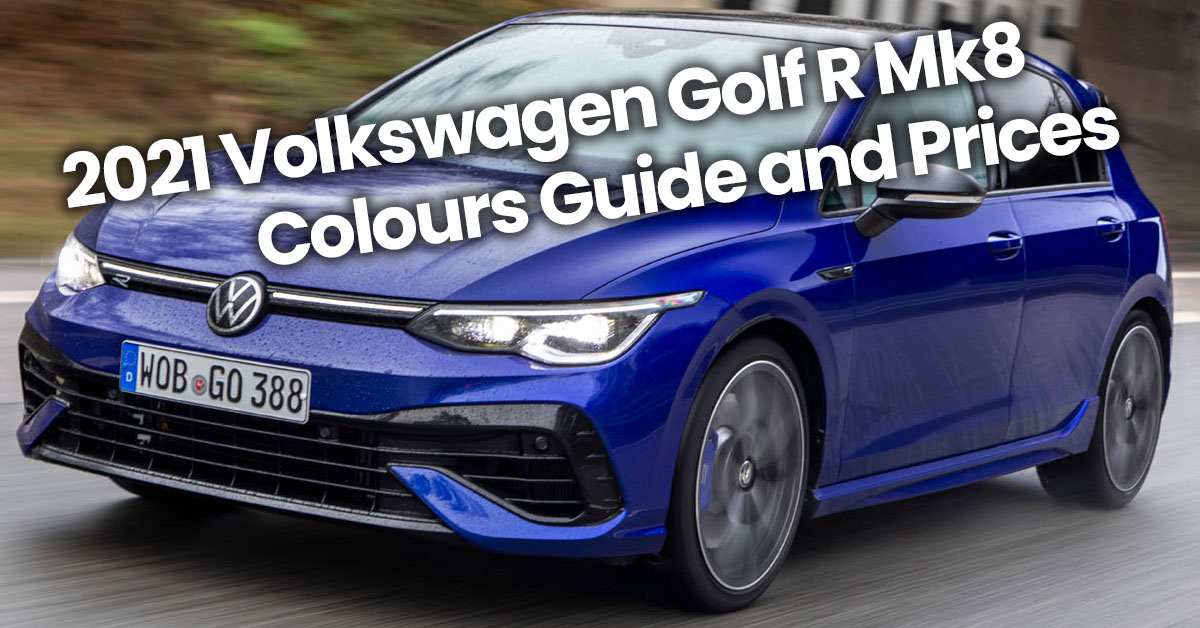 Posted in
Volkswagen
On By
Aaron
The 2021 Volkswagen Golf R Mk8 has a large range of solid, metallic & pearl colours available at different prices. Check them out in this handy guide!
The much anticipated 2021 Volkswagen Golf R Mk8 hot hatch is now available in the UK. The Golf R is famous for its extremely potent engine, capable of 0-62mph in just 4.7 seconds and has a limited top speed of 155mph. It features a 2.0-litre turbocharged four-cylinder engine and seven-speed dual-clutch all-wheel drive in an automatic gearbox. The latest 2021 iteration comes with a brand new 'Drift' and 'Special' modes which can be unlocked with the returning (and optional) R-Performance pack, which also increases your top speed to a maximum of 168mph.
The previous Golf R model has been one of our most leased cars in the past few years. A common question we were asked was "What colours does the Volkswagen Golf R come in?". So we've prepared this guide to help you see what colours are available for the 2021 Volkswagen Golf R Mk8.
The 2021 Volkswagen Golf R Mk8 will come in the following solid, metallic and pearl colours:
Pure White
Deep Black Pearl
Lapiz Blue Metallic
2021 Volkswagen Golf R Mk8 Colours and Pricing
Pure White / Solid - £0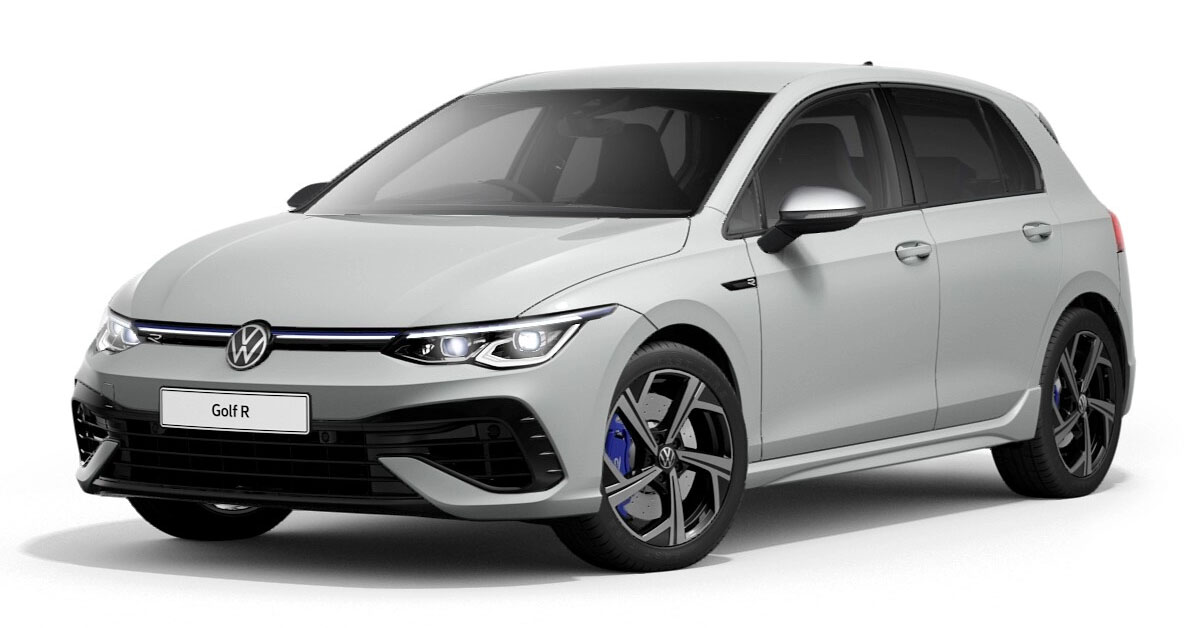 Pure White is the basic colour the 2021 Golf R comes with. It's free of charge and is the brightest option out of the three. You can be easily seen in the solid Pure White paint and the colour stands out fairly well. Standing out is definitely something you want if you own this car. This colour is free and costs £0.
Deep Black / Pearl - £625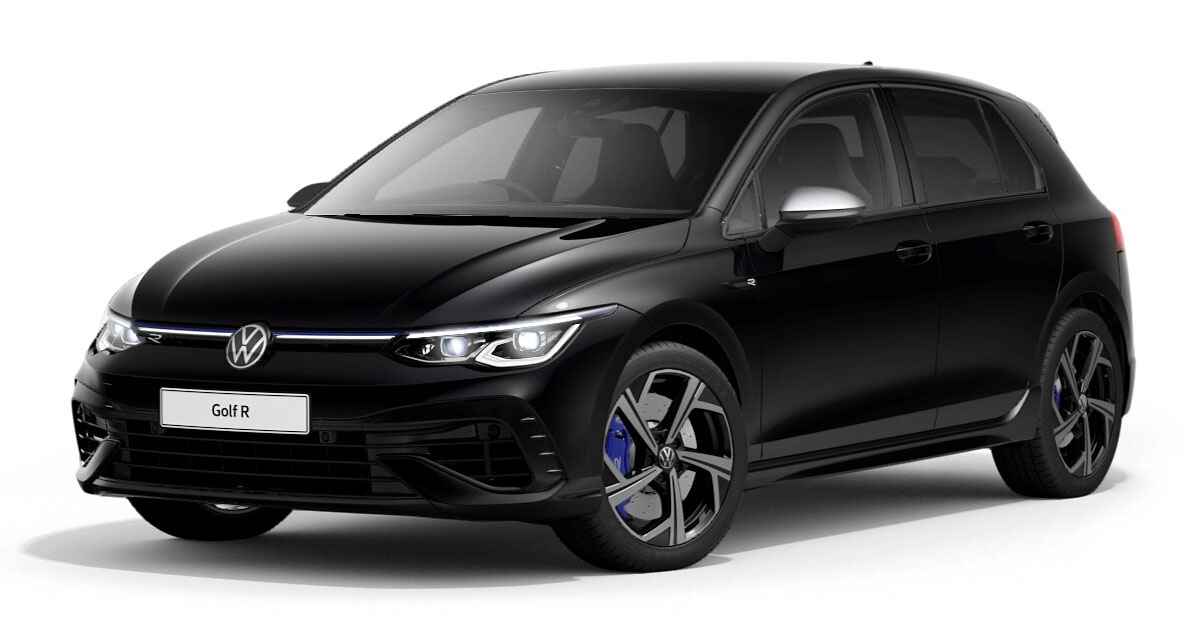 Deep Black Pearl is a premium pearl colour that gives your 2021 Golf R a stealthy look. The stealth look is highly desirable by many hot hatch lovers and can be enhanced by opting for the 19-inch 'Estoril' black diamond turned alloys. Get the rearview and rear passenger windows to the maximum legal tint too and you have the ultimate stealth car! This is a premium option pearl colour which will cost £625.
Lapiz Blue / Metallic - £755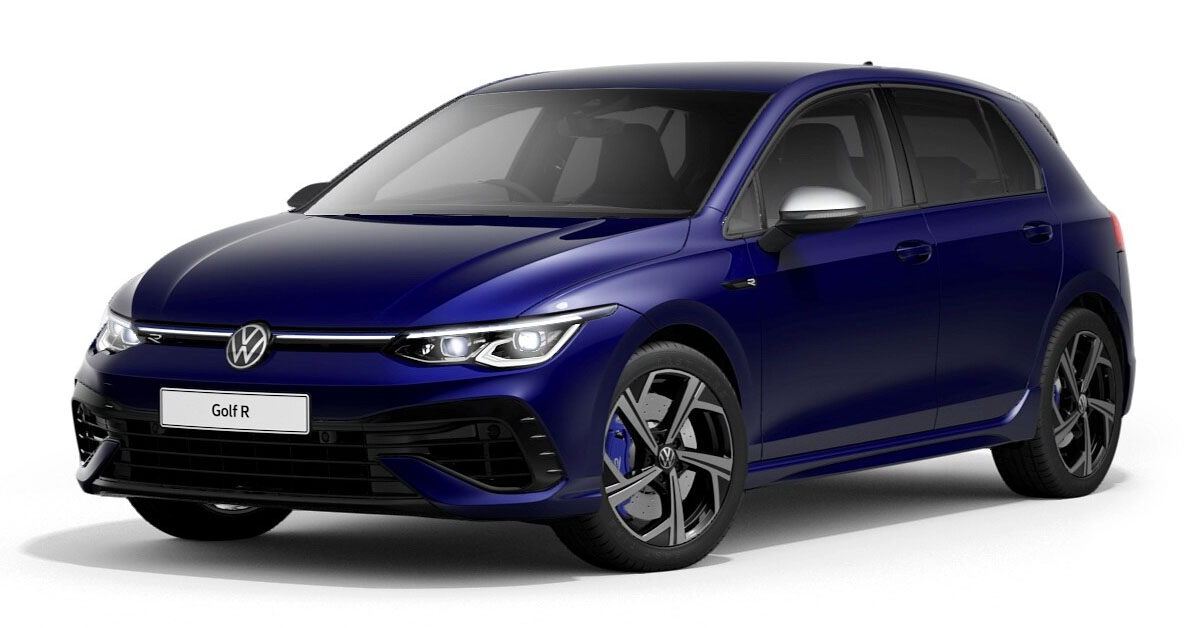 Lapiz Blue Metallic is the Golf R's trademark colour and for many, is the only colour the Golf R should be bought in. The Lapiz Blue looks stunning on both sunny and grey days, with the paints metallic sheen glimmering under natural sunlight and street lights. This colour really highlights the 2021 Golf R's updated 'Mk8' styling and promotes the cars aggressive and sleek contour lines. Lapiz Blue instantly shouts 'R'. This is a premium option metallic colour which will cost £725.
If you want to know more about what the latest Golf R brings to the table, check out our in-depth review here. Want to know if the optional R-Performance pack is worth it? Check out our R-Performance pack review here.
Interested in leasing the latest 2021 Volkswagen Golf R Mk8?
If you're interested in getting this car at an affordable price per month, why not try out leasing? Stable Vehicle Contracts has been leasing Volkswagen cars since 2009 and we're one of the UK's leading car leasing companies. We've sold thousands of Golf Rs to happy customers and many return to lease a new car every two, three and four years. Check out our Volkswagen Golf page if you want to learn more or read our Reviews page to see our verified customers experience of using us.
You can find our latest 2021 Golf R deal pages by going to the Volkswagen Golf page and then selecting the 'Spec' filter and selecting 'R', which will show you the latest Golf R leasing prices. Alternatively, visit the link below to go straight through to the R page:
Volkswagen Golf Hatchback 2.0 TSI 320 R 4Motion 5dr DSG
You can reach us on 0151 728 4711, alternatively, visit our Contact page and submit a form and we'll aim to respond to you within 24 hours. Otherwise, check out our Special Offers page to see what deals we have on currently!
Established in 2009, Stable Vehicle Contracts are a UK based premium vehicle leasing company. We are part of a large, privately owned, Volkswagen and Audi dealership group with over 25 sites. Stable Vehicle Contracts has the ability to offer the very best car and commercial vehicle lease deals and thanks to our partners in the trade, we've become leaders in the supply of cars and commercial vehicles through leasing. Give us a call today on 0151 728 4711 or visit our Special Offers page to see what deals we have on.