Meet the Audi RS e-tron GT
Posted in
Audi
On By
Aaron
Meet the Audi RS e-tron GT prototype. A 684bhp all-electric 'grand tourer' set to take on the likes of the electric Porsche Taycan Turbo.
The Audi RS e-tron GT is an all-electric car that is set to replace the likes of Audi's top-performing combustion engine models, such as the RS7 Sportback. Although it has the looks of a saloon, Audi are billing it a 'grand tourer' in order to differentiate it from the current market of all-electric saloons, like the Tesla Model 3, Model S, Polestar 2 and Porsche Taycan. The RS e-tron GT is the first all-electric Audi model to wear the RS badge, meaning this car offers the ultimate prestige and power that comes with the RS moniker.
When it comes to performance the Audi RS e-tron GT has plenty to offer from its 94kWh battery and two electric motors. The front-axle motor offers a healthy 175kW of power which translates into 235bhp, whilst the rear features a 335kW motor that gives an astounding 449bhp. Combined this gives the RS e-tron GT a total power output of 684bhp and a 0-60mph time of "under 3.5 seconds" Audi have said. There's official no top speed figure yet but we imagine it's going to be just as ridiculous as the power the car already has; topping out at around 160mph is our guess.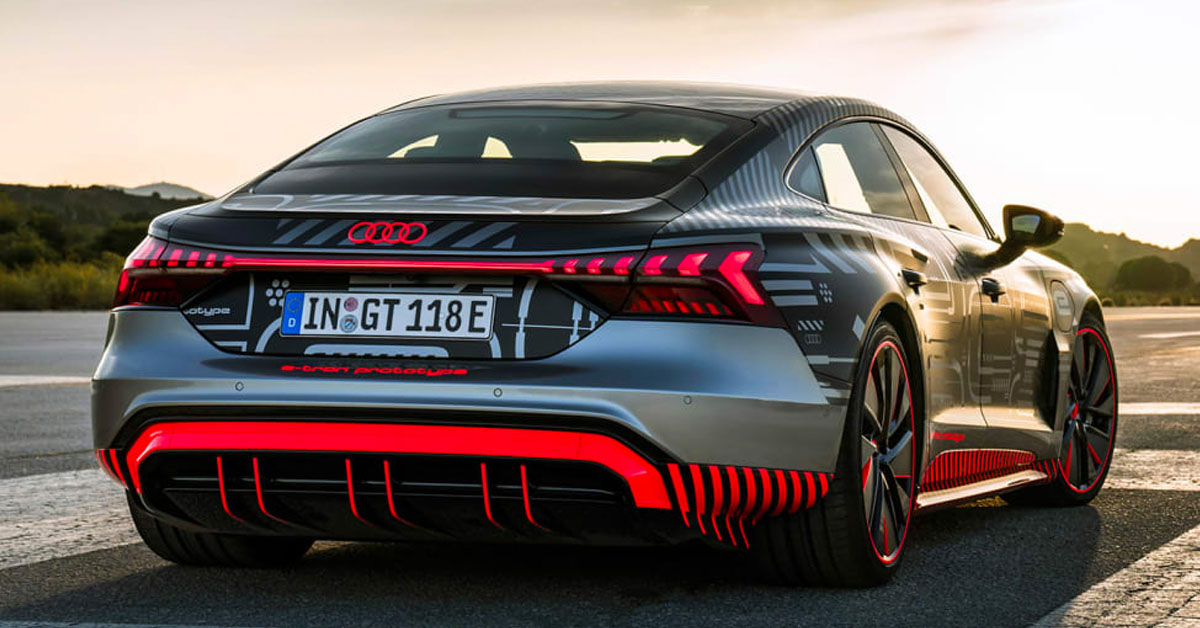 How does one keep that power under control? Audi have given the car a four-wheel-drive transmission that makes that car easier to control during hard acceleration, as well as a unique three-chamber adaptive air suspension that supposedly adopts different heights based on the road conditions. The RS e-tron GT stops as fast as it goes, with powerful silicone carbide-coated brake discs that Audi claim to reduce brake dust by up yo 90%.
Range wise, Audi are saying the RS e-tron GT will do up to 250 miles on a full charge. But knowing how electric vehicles on the current market differ when it comes to official vs actual mileage, we can imagine a real-world range is a bit less than that. There will be different models available which will come with bigger batteries, so you can expect a long-range version with over 300 miles per charge.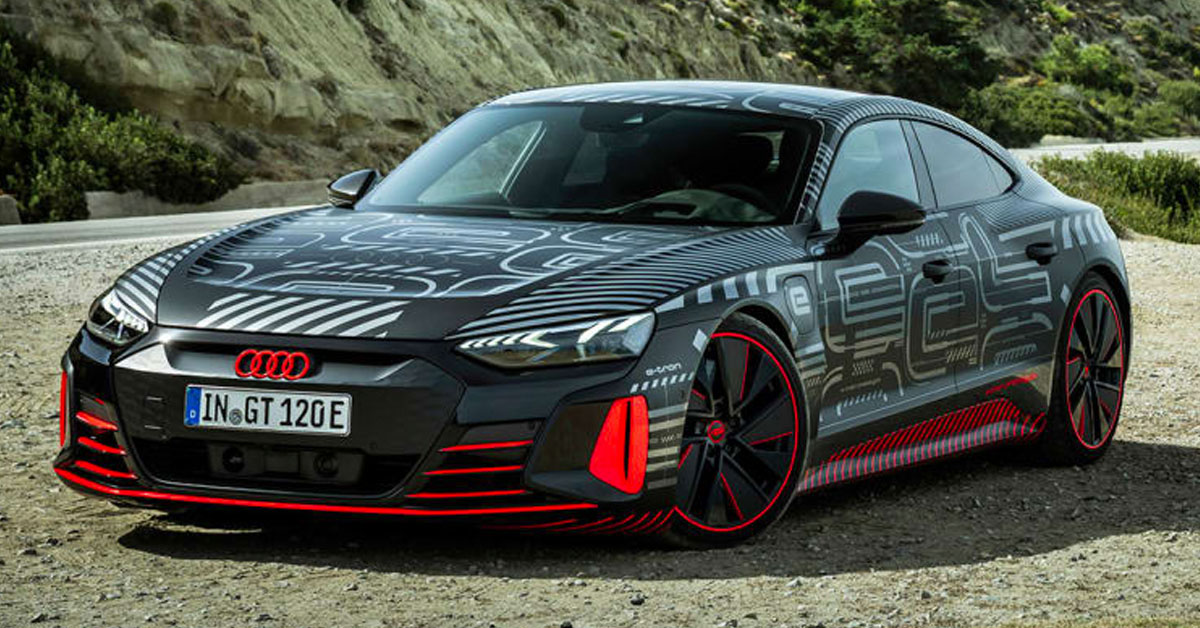 The RS e-tron GT remains a saloon-style car, but Audi are keen to change that moniker to a 'grand tourer' style car. This is because the RS e-tron GT is a spacious car that aims to be competent and focused on longer journeys. There is plenty of space in the back and headroom height is excellent, even for those six-footers. Boot space comes at around 400-litres which is practical enough to be useful.
How much will the Audi RS e-tron GT cost?
There are no official figures on prices yet, but the Audi RS e-tron GT may start out at £100,000 for the basic model, with the long-range versions going up to £125,000.
When will the Audi RS e-tron GT go on sale?
The Audi RS e-tron GT is said to be going on sale in Spring (March/April) of 2021.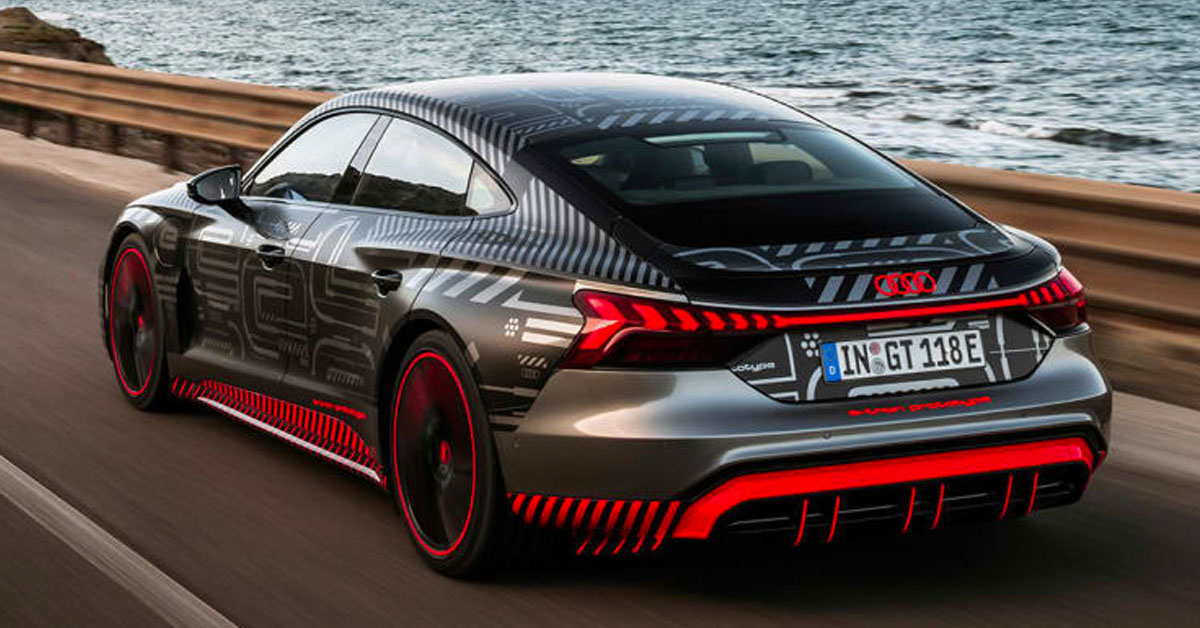 Established in 2009, Stable Vehicle Contracts are a UK based premium vehicle leasing company. We are part of a large, privately owned, Volkswagen and Audi dealership group with over 25 sites. Stable Vehicle Contracts has the ability to offer the very best car and commercial vehicle lease deals and thanks to our partners in the trade, we've become leaders in the supply of cars and commercial vehicles through leasing. Give us a call today on 0151 728 4711 or visit our Special Offers page to see what deals we have on.