What is the BMW Digital Key?
Posted in
Car News
On By
Aaron
The BMW Digital Key is an iPhone based full digital car key that can be used to secure your car in a quick and easy fashion.
An upcoming new technology called the 'BMW Digital Key' has been in the works since 2019. The BMW Digital Key will be a quick and easy way to lock and secure your vehicle. You can share your digital key with friends or family for them to use your vehicle, as well as removing the worry of ever losing or misplacing your standard physical key. BMW finally unveiled the technology in June 2020 at the Apple Worldwide Developer Conference where they announced they will be the first-ever car maker to offer a digital key to unlock your car with.
How does the BMW Digital Key work?
The BMW Digital Key is simple and easy to use and meant to be a replacement for standard physical keys. You firstly have to set up the key. You will need a BMW ID and the 'BMW Connected' app with an account registered. Once you have done that you simply add your vehicle to your account. Once added, you need to sit inside your BMW with both keys inside (to prove you are the car owner) and follow the instructions on your iPhone until you get to the pairing stage. After pairing you will then be able to access and lock your vehicle via the app.
In order to actually use the BMW Digital Key, you need to be within 1.5 inches from the driver's door handle. Simply put your iPhone up against the handle and the driver's door will unlock. Your iPhone doesn't need to be unlocked either as there is a setting within that will enable your digital key to unlock your car, with your phone staying locked. Though for security measures this particular function must be enabled. This is called 'Express Mode' and will make locking and unlocking quick and easy.
You can send invitations out from your account to other BMW Connected app holders. Once accepted they will be able to also lock and unlock your vehicle. You can manage the users from your own account and can have up to five users at once. You can also disable certain features of each user. For example, if a learner is using your car you can give them a 'Restricted Key', which can limit their top speed as well as making safety features such as ABS (anti-lock braking system) and TC (traction control) permanently switched on. You can easily revoke users access at any time through your account user management section.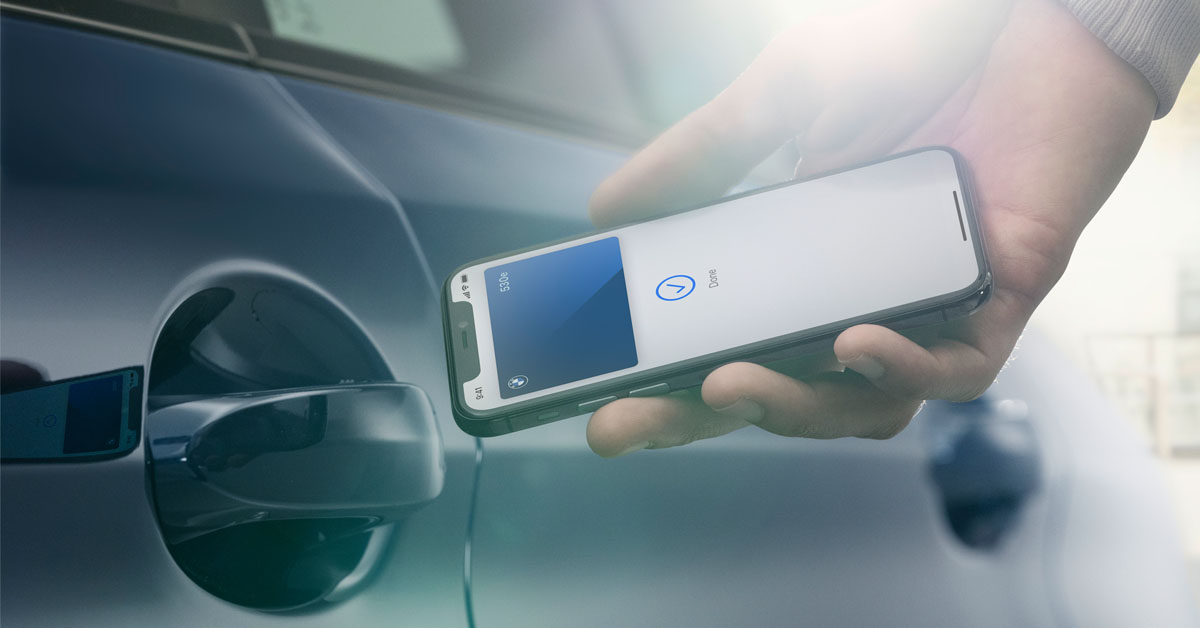 How safe is the BMW Digital Key?
Of course, the main concern of a digital key stored on your iPhone would be safety of your vehicle and your data. BMW have openly said that data about you, your users and your vehicle is NOT shared with Apple or BMW themselves. Furthermore, the digital key is saved on an NFC chip within your iPhone that is certified to be tamper-resistant and has the best modern security features available.
The 1.5-inch distance to open your door means that if someone had stolen your phone, they would need to be right next to the driver's door handle under to use it. In a car park full of cars this would make any would-be thief give up. If you've left on the 'unlock the phone before unlocking car' feature, a thief would never be able to gain access to your vehicle unless they knew how to access your phone. If you had left this feature off, you could simply log on to your account via another phone or PC and switch the feature on in order to safeguard your vehicle. Remember, if a thief has your physical car key, there are zero checks like this in place to stop them taking your car.
What BMW vehicles are compatible with the BMW Digital Key?
The following vehicles built from July 2020 onward are compatible with the BMW Digital Key (accurate at the time of writing 23/06/2020):
If you need any more information and FAQs regarding the BMW Digital Key, please visit the official BMW Digital Key webpage. If you need to access the BMW Connected account login page please click this link.
Established in 2009, Stable Vehicle Contracts are a UK based premium vehicle leasing company. We are part of a large, privately owned, Volkswagen and Audi dealership group with over 25 sites. Stable Vehicle Contracts has the ability to offer the very best car and commercial vehicle lease deals and thanks to our partners in the trade, we've become leaders in the supply of cars and commercial vehicles through leasing. Give us a call today on 0151 728 4711 or visit our Special Offers page to see what deals we have on.